HOME
>
Products/Services
>
Parts sales
>
Smartphone goods
> Connect with can
Parts sales
Product ID: 480
*Reproduction of images is prohibited
Connect with can
This product is a big hole version of Smart Connect.
The through holes for accessories have become larger, making it easier for customers to attach their own accessories.
Add your favorite accessories to smartphones you couldn't wear before!

For example,
You can connect the charm with 2.3 mm diameter ball chain and crab can to the earphone jack of your smartphone.
You can also thread two straps. (*1)

Notes
・*1 When using our ball chain BC23 series, Kanikan C-25, strap RS-C series or fancy netsuke series. Please note that we cannot guarantee connection of other model numbers or parts made by other companies.
-You cannot hang devices such as smartphones with this product. Depending on the usage conditions, it may accidentally come off, so please never use it for delicate items or valuables.
-Please note that the product may be damaged if strong force is applied from the side or a shock is applied while it is inserted in the device.
| | |
| --- | --- |
| Product code | 5309 |
| body size | 7.5 23 × × 4.5mm |
| Material | K resin |
| Body color | Black, translucent clear |
| Insert name | Improper |
| Normal delivery time | 5 days (Additional period will be required when the product is out of stock) |
| Other | Reference fee 50 yen (excluding tax) Please contact us for the advantageous lot sales price. |
Recommended for mounting such accessories.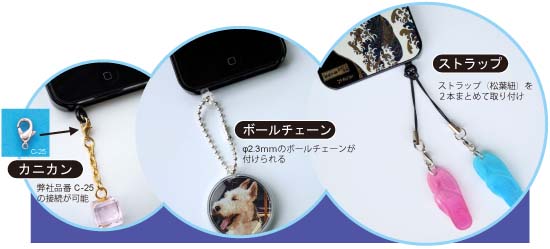 If you can attach this product to your company's accessories with ball chains and crabs,
Users will be able to attach accessories to smartphones with earphone jacks (φ3.5 mm).