HOME
>
Products/Services
>
Parts sales
>
Zodiac/Mascot
> Bead Zodiac Mascot (Bead Zodiac Protection)
Parts sales
*Reproduction of images is prohibited
Catalog No.: 5421
Beads Zodiac Mascot (Beads Zodiac Mamoru)
A hand-knitted beaded mascot with auspicious zodiac. The warmth and cuteness unique to handmade products are familiar to a wide range of generations.
It is a completely original design in collaboration with beads artist Keiko Kitamura.


<Set contents>
● Package set
 Reference retail price 450 yen

●Mascot alone (with/without key chain)
*Please attach the attached logo sticker to the package when selling. (For details, please see the leaflet catalog.)
Product code
5421
Material
Beads: glass/resin
Ring (gold plated): Iron
Ball chain (gold plated): Iron
Other
Since it is handmade, there are individual differences in the size and knitting method of beads. Please note that the size is a guide.
504

Specializing in three-dimensional bead mascots, with a realistic and cute style
He has produced many animal works with particular attention to detail. 
"Motif/Beads" "NEW Motif/Beads Selection" (Nagaoka Shoten)
**Bead artist Keiko Kitamura's home page**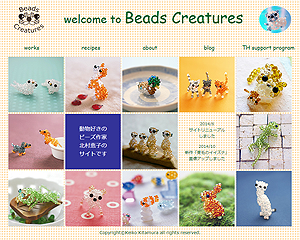 http://www012.upp.so-net.ne.jp/beadsholic/