HOME
>
Products/Services
>
Original goods production
>
Product list
> Smartphone stand ring (fall prevention ring)
Original goods production
*Reproduction of images is prohibited
Catalog No .: 6023a
Smartphone stand ring (fall prevention ring)
A smartphone drop prevention ring featuring a flat, large printing surface and adhesive surface suitable for UV printing.
It is a smartphone ring that can also be used as a smartphone stand.

The large printed surface is perfect for promotional items and original products! The width of the design expands. It is easy to print on a flat plate, and you can use UV printers to make your own designs. A peelable sticker that can be reapplied after washing with water supports smartphone operation comfortably. We have dedicated production equipment for both small lots and large lots. Please contact us according to your application.

            -Notes-
It may not be available depending on the material on the back of the smartphone. PU materials, silicone, cloth and leather, and glass are not suitable for attaching smartphone rings. It is highly recommended to use this product on the smooth surface of the protective case. This product is a removable seal. Adhesive strength will be restored by removing running dust from the sticker. Please paste it after drying it well. Also, repeated peeling may gradually weaken the adhesive strength. If it is not firmly adhered, it may peel off unexpectedly, but we will not take any responsibility even if the device is damaged by the use of this product. In the case of parts sales, we will not be liable for any problems that may occur during assembly or problems caused by using non-genuine parts.
Product code
6023a
body size
Plate: H35 x W40 mm [including ring H...45 (mm)]
Ring: W27.7 x H29.6 x D3 Inner diameter approx. φ20 (mm)
Material
Plate white/black: ABS
Plate clear: PC
Ring: Zinc alloy
Fastener: brass/resin
Peelable seal: PET
Body color
Plate: White/Black/Clear
Ring: Matte Gold / Matte Silver / Matte Silver
Insert name
Possible (from single color to full color)
Normal delivery time
30 days
More
Although there is a patent with the same structure, we have been selling it since March 2018, which is more than one year before the filing date.
533
Features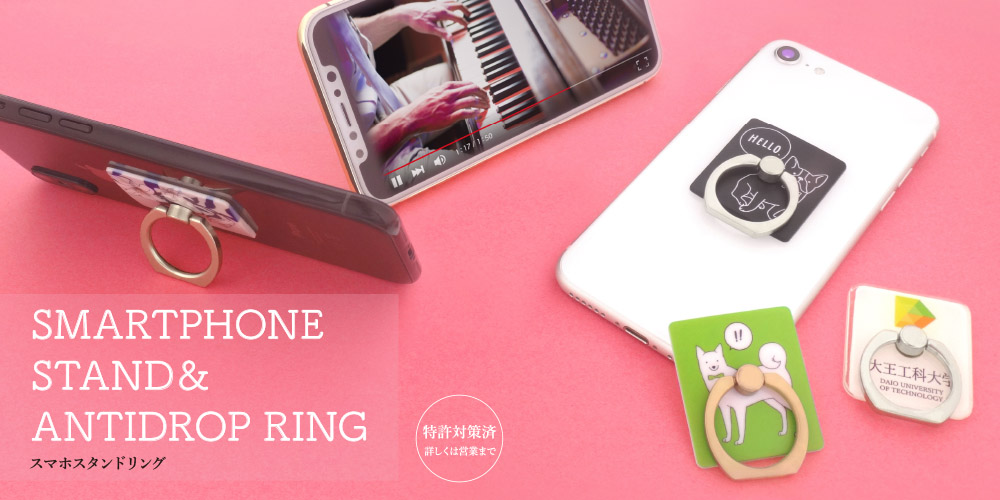 With a flat and large printing surface suitable for original printing with a UV printer
A smartphone stand ring featuring an adhesive surface.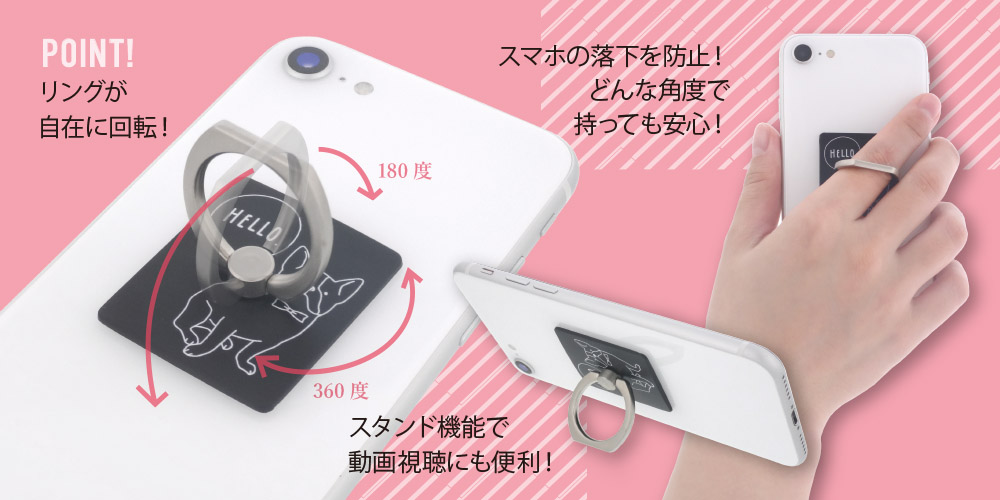 The ring and body rotate freely and you can hold it at any angle without worry!
The stand function is also convenient for watching videos.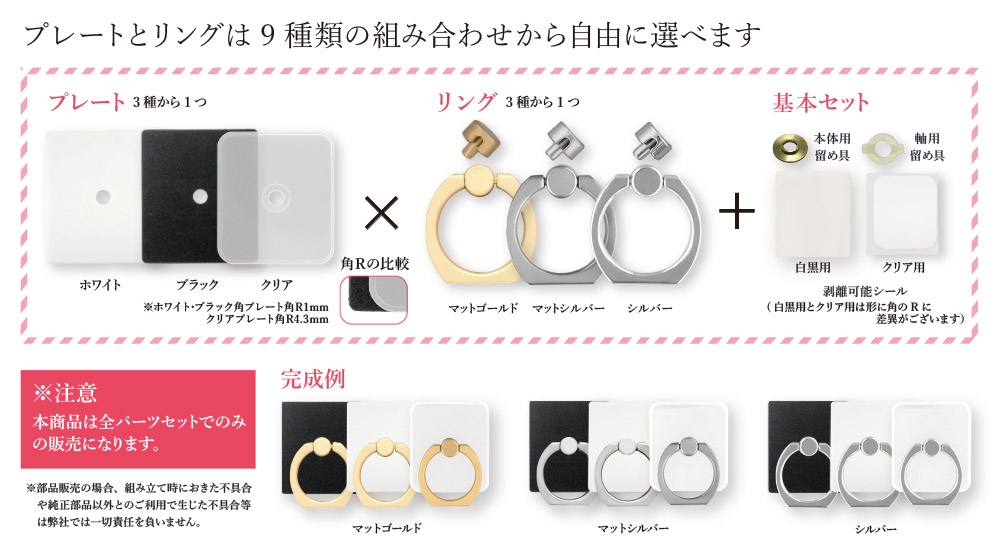 You can freely choose from 9 different combinations of plates and rings.
A "removable sticker" that can be used repeatedly by washing with water is attached as standard on the back side.
* This product is sold only as a set of all parts.
* In the case of parts sales, we are not responsible for any problems that occur during assembly or problems that occur when using other than genuine parts.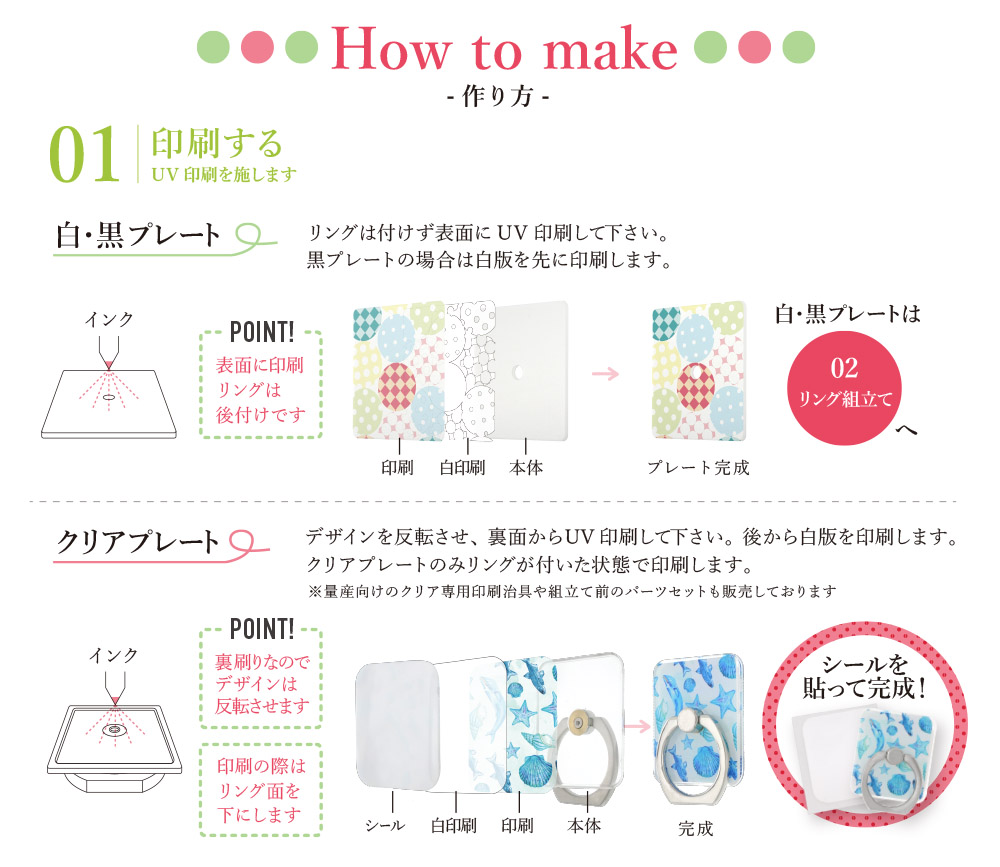 Example of finished product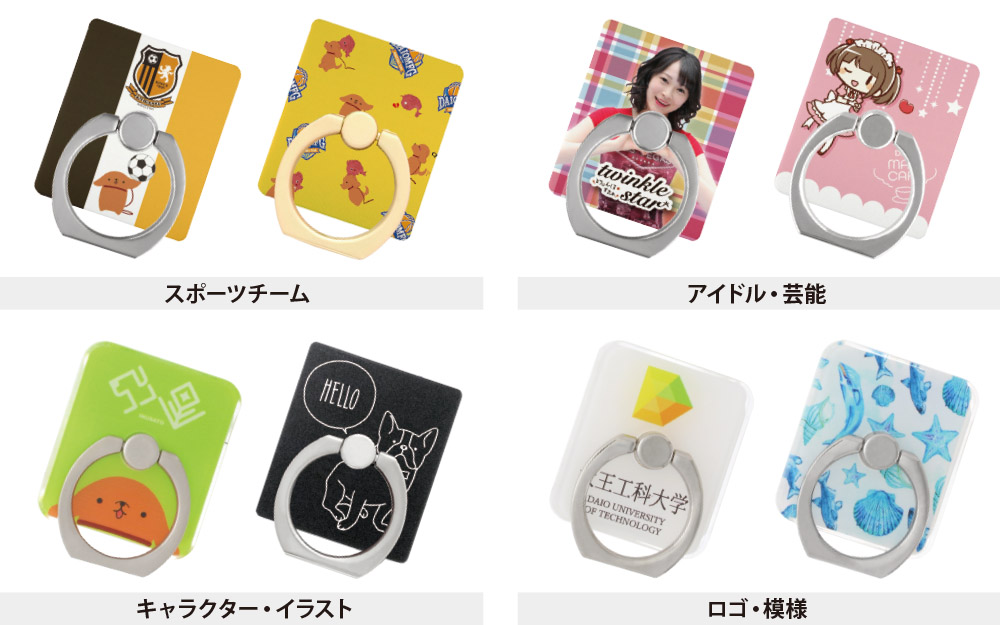 When you want to put a name or make an original design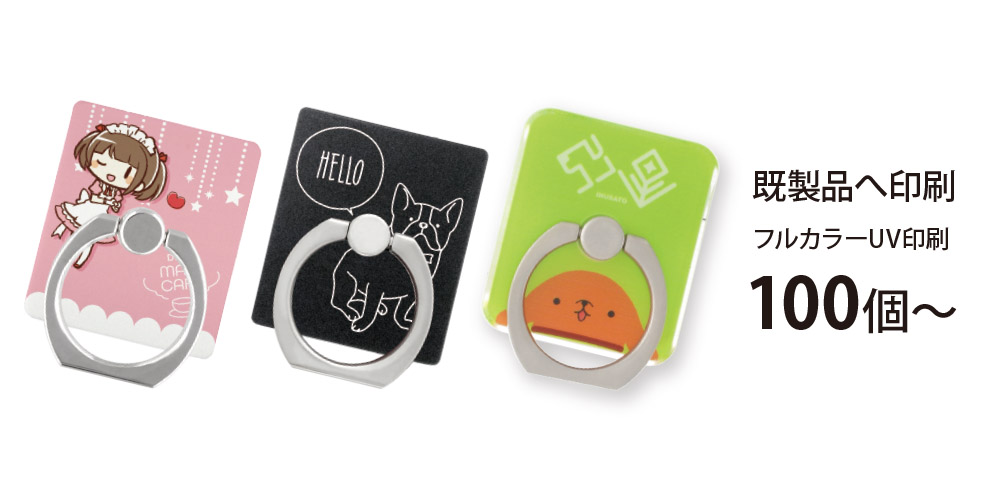 Put your name on the ready-made product
Minimum lot: 100 pieces ~
Reference delivery time: 10 days for sample, 20 days for mass production

パ ッ ケ ー ジ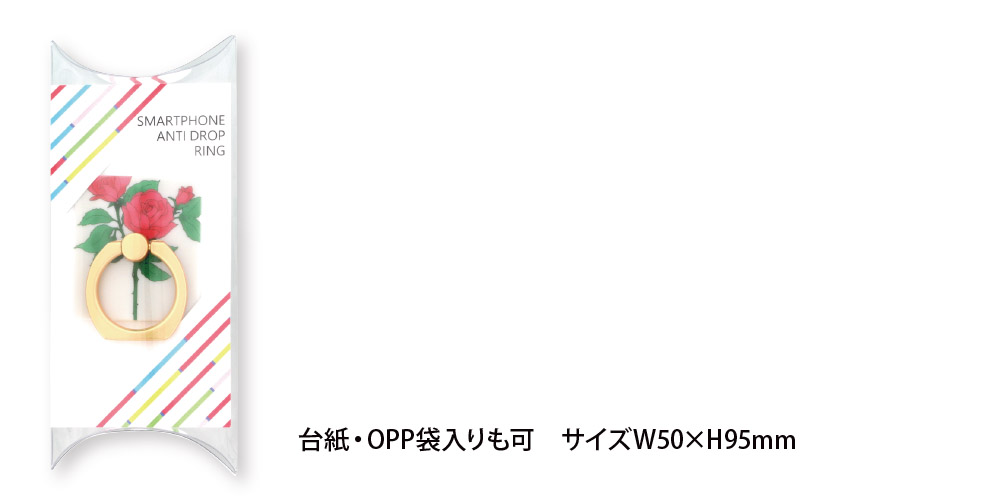 You can also make an original mount design.
Print range/template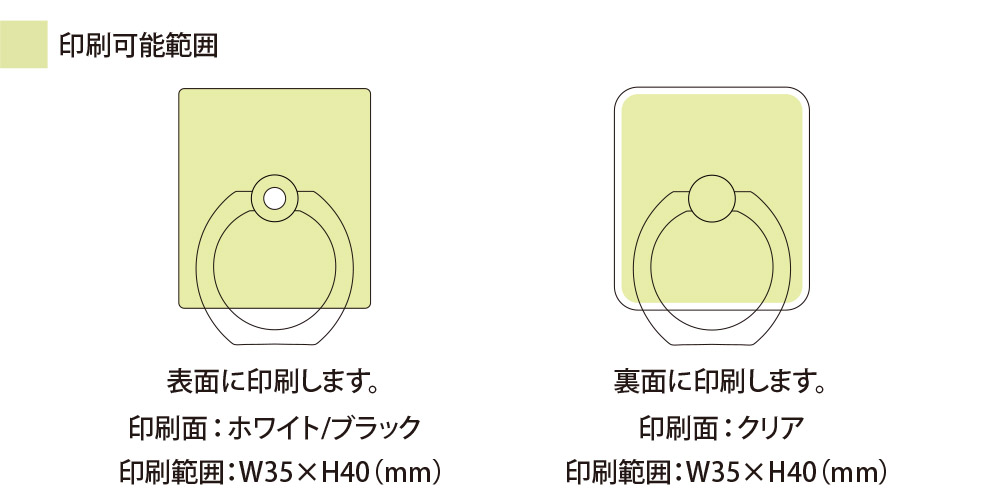 ↓ Please download the template from here

Works
Introducing the company that made this product!