HOME
>
Products/Services
>
Parts sales
>
Handmade parts
> Multi-frame
Parts sales
Product ID: 684
*Reproduction of images is prohibited
Catalog No.: 5916
Multi frame
Acrylic plates up to 3 mm thick can be sandwiched in the frame, and if you print a design that makes use of the transparency of the acrylic plate, you can make it a transparent and stylish photo frame.
By changing the thickness and number of the sandwiched acrylic plates, you can enjoy a variety of expressions by including tickets, picks, pressed flowers and cutouts.
The built-in magnet also comes with stand parts, so you can select multiple scenes to use.

You can choose the color of the frame from two colors, black and white,
Since the back side has a magnet embedded, you can stick it on the refrigerator or locker,
You can also place it on a desk with the included stand parts.
(The colors of the parts other than the edges are the same.)


Anime work sports picture frame character
| | |
| --- | --- |
| Product code | 5916 |
| body size | Frame: W84 x H63 x D11mmAcrylic (inclusion): Up to W72 x H51 x D3 mm |
| Material | Frame: ABS, neodymium magnetPlate: acrylic |
| Body color | Frame color: white/black |
| Insert name | Possible |
Features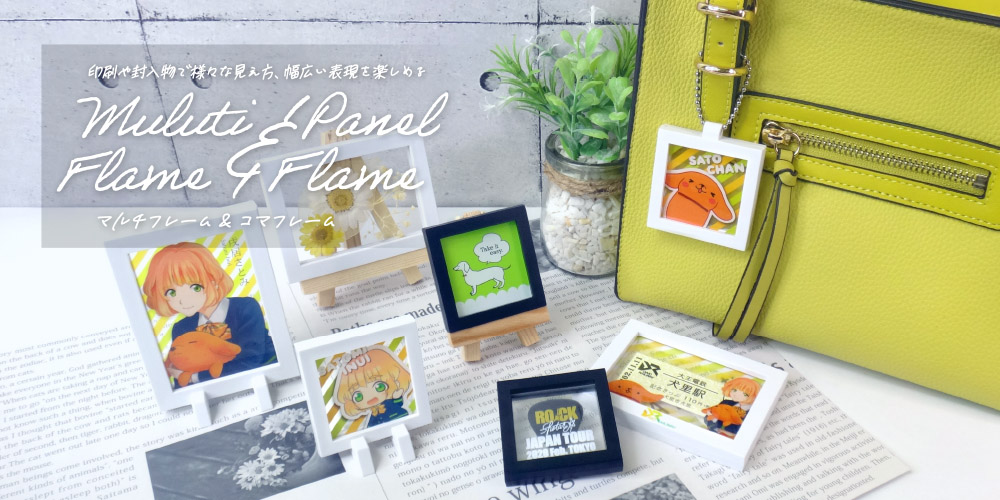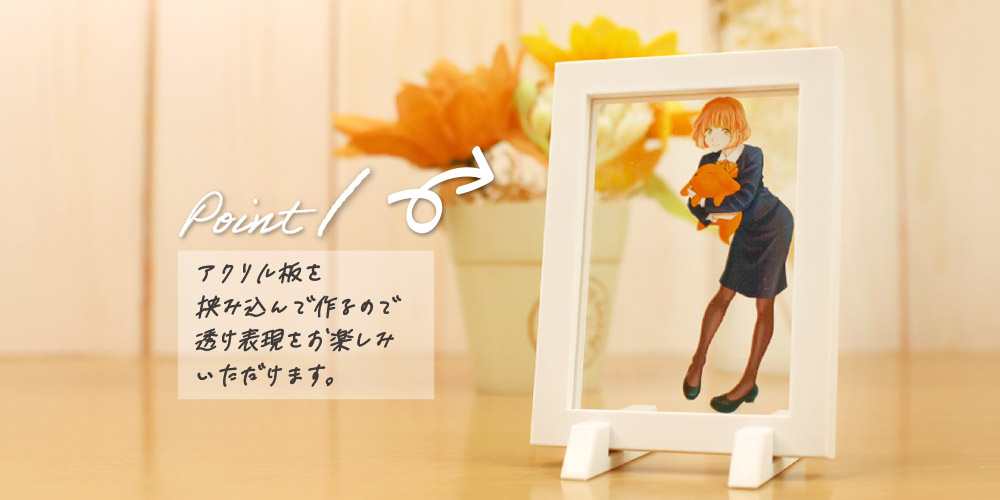 You can choose the color of the frame from two colors, black and white,
A magnet is included on the back, and stand parts are also included.
(The colors of the parts other than the edges are the same.)
Please contact us as acrylic is an optional part.
It is possible to print, assemble, and deliver in a package.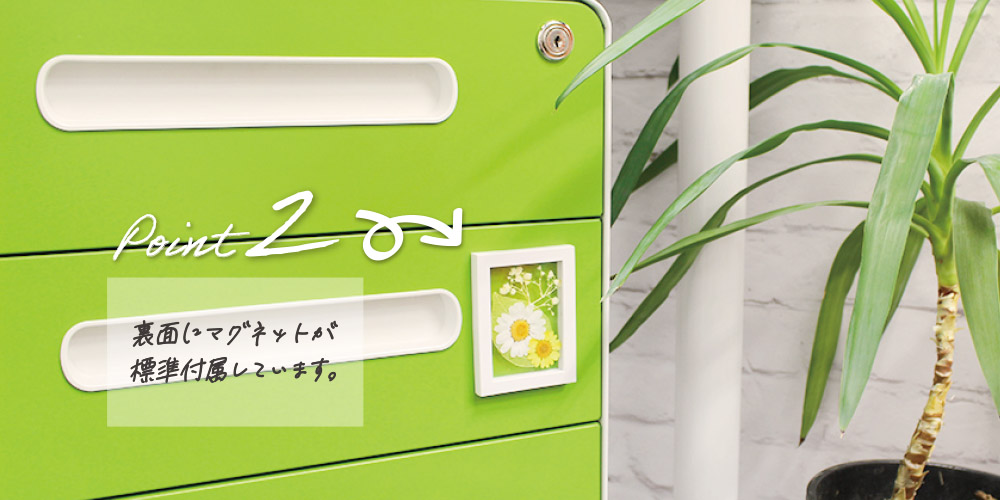 The magnet type can be attached to a refrigerator or whiteboard.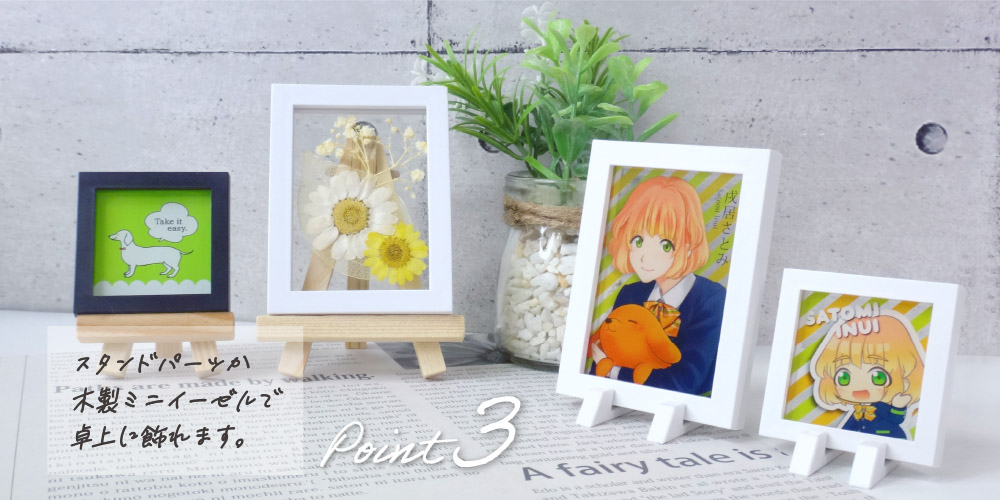 You can decorate the stand type anywhere!
Recommended usage

Printing is by making a part of the watermark or making a part that is not printed, rather than laying a white plate on the whole surface,
It is recommended that you can create transparent expressions unique to acrylic!
With the balance of the white plate and the watermark, rather than decorating something printed on paper etc.
There is a white version only for the character, so you can enjoy different views such as matching with the landscape!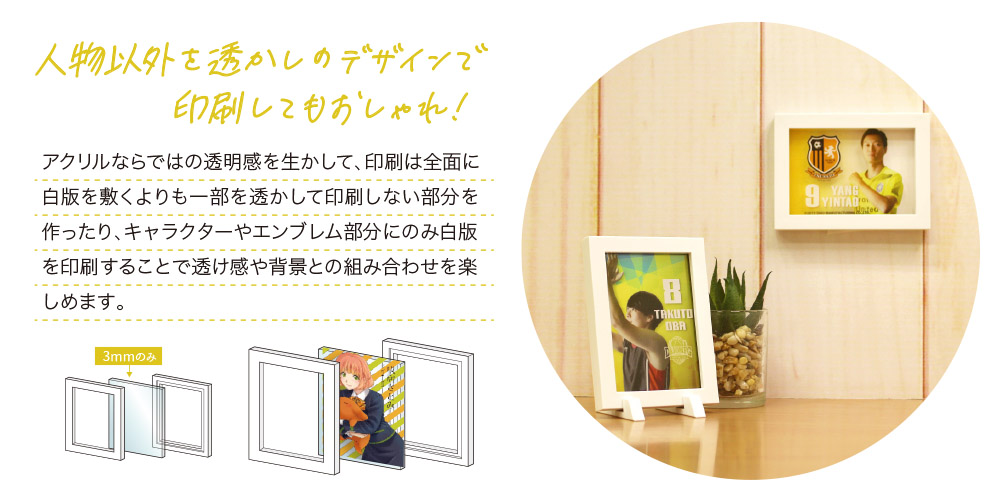 Protect your commemorative tickets, picks and cutouts from dust and decorate them stylishly!
It is simple to put the inclusions without printing on the acrylic, but the quality will be improved by printing!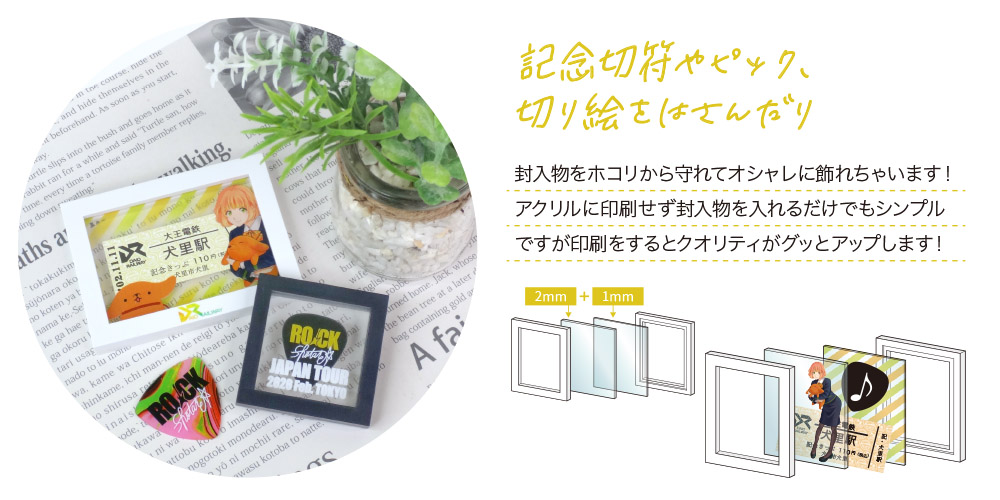 A workshop where two 1mm acrylics are prepared and pressed flowers are enclosed,
You can also add printed acrylic parts and sequins!
Print range/template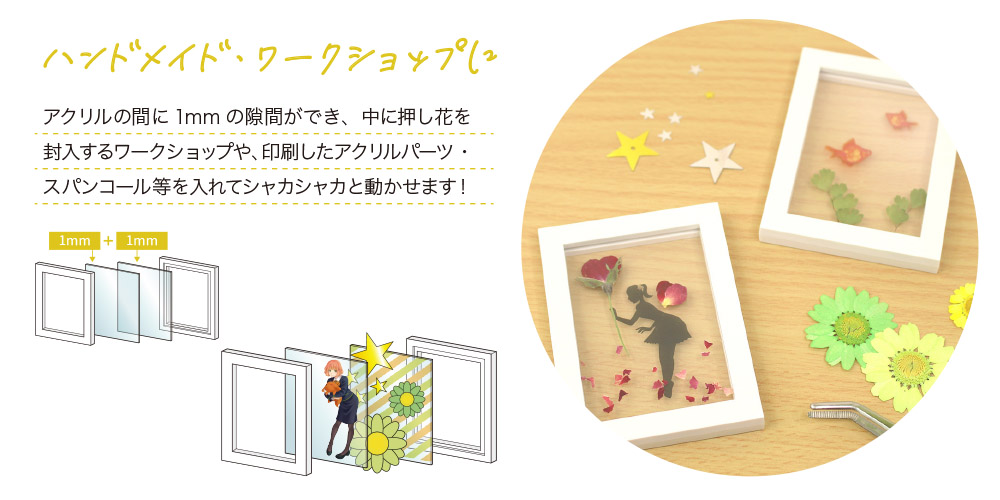 ↓Please download the template from here