HOME
>
Products/Services
>
Original goods production
>
Product list
> Reel key chain (with acupoints) ◆
2 Original goods production
*Reproduction of images is prohibited
Catalog No.: 5313
Reel key chain (with acupoints) ◆
A reel key chain featuring a flat body suitable for printing.
Original printing can be done by combining with a pass case that is essential for commuting to work or school.
Recommended POINT!
 1. Flat shape to the edge that can be printed on both sides
 2. Pear body with a calm texture (also suitable for UV printing)
 3. Long stroke (approx. 75 cm) improves usability
Since it is an outer pot type that is easy to attach a key chain, it is suitable for attaching to a bag or neck strap.
We also have a wide variety of colors and types of combination parts such as key chains and hooks that can be attached to outer pots!
*Printing recommended only for white and black
* Gold and nickel are not recommended due to weak ink adhesion. Please contact us if you want to print.
Product code
5313
body size
Whole: W32×H59×D9mm
Name entry surface: φ30 mm
Double ring: φ2 x outer diameter 1mm
Reel stroke: approx. 75 cm
Material
Body: ABS
Double ring: iron
Body color
Black/white/chrome/gold
Insert name
Possible [Name size] φ30 mm
Analytical test data
Tensile strength inspection About 3kg
685
Print range/template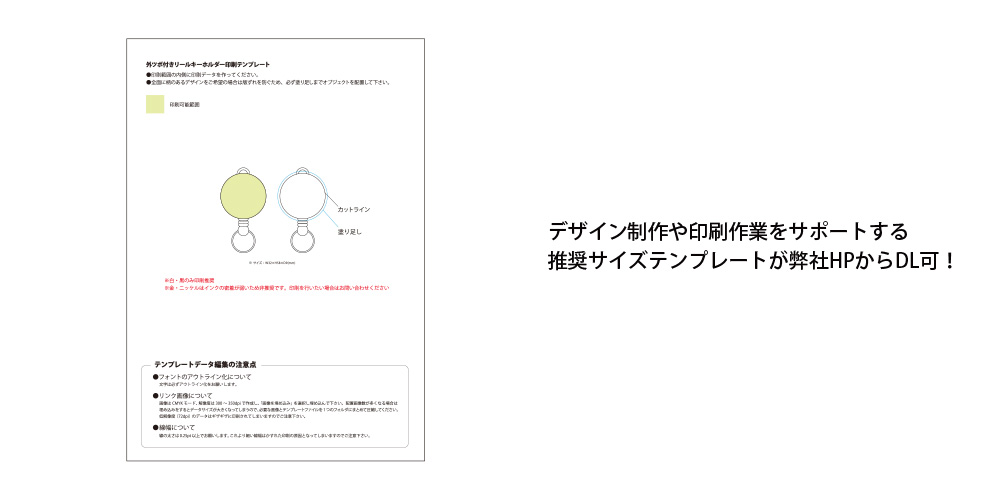 ↓ Please download the template from here

Recommended combination parts
Works
Introducing the company that made this product!
Popular with students
Reel keychain