HOME
>
Products/Services
>
Parts sales
>
Electric miscellaneous goods
> Portable fan (circulator)
Parts sales
*Reproduction of images is prohibited
Catalog No.: 6014
Portable fan (circulator)
A convenient handy fan that can be used in three ways.
It is a USB rechargeable handy fan that can operate for up to 9 hours by switching the air volume in XNUMX stages.
The upward blast structure delivers a hands-free, cool breeze from under your face.
Since both hands are free, it is convenient to use while operating a smartphone or working, for example.
No need to worry about getting your hands tired.
The stand can be adjusted in XNUMX stages, and it can be placed on the table and used as a mini circulator.
We recommend printing logos and illustrations on the front cover for character goods and corporate novelties.
| | |
| --- | --- |
| Product code | 6014 |
| body size | W81 x H116 x D39 (mm) |
| Material | ABS / PP |
| Body color | Ivory white |
| Insert name | Name can be entered (up to 60 mm in diameter) |
| Normal delivery time | 2-3 days without printing (when in stock). It takes about 10 days to XNUMX weeks for order printing separately. |
| ROHS standard | Acknowledged |
| More | Compatible standards CE, FCC, PSE (battery) |
720
XNUMX ways to use
scene

1
Use hands-free around the neck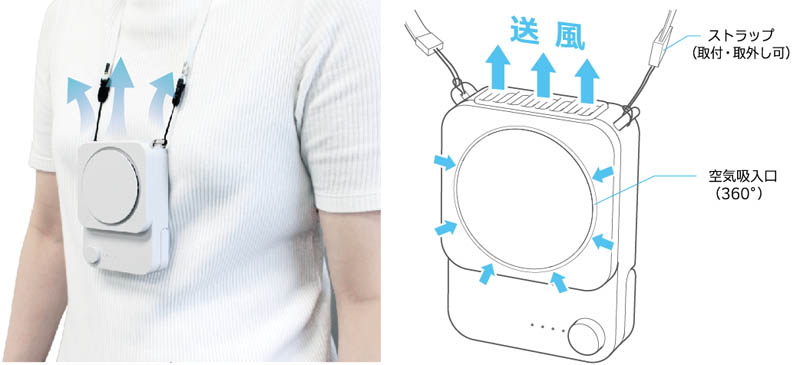 scene

Two
Put it on the table and use it as a mini circulator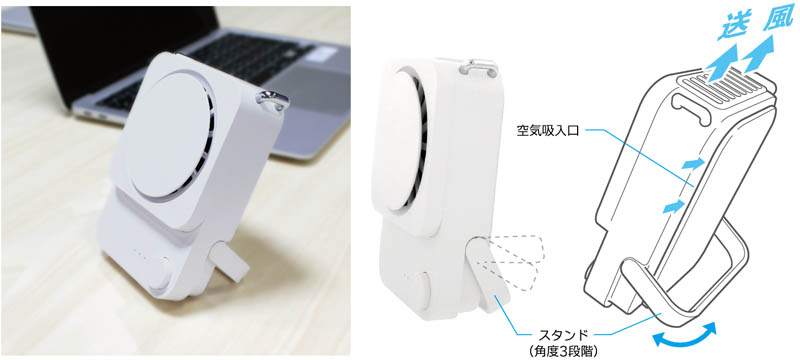 scene

Three
You can carry it in your pocket or in the waist of your pants.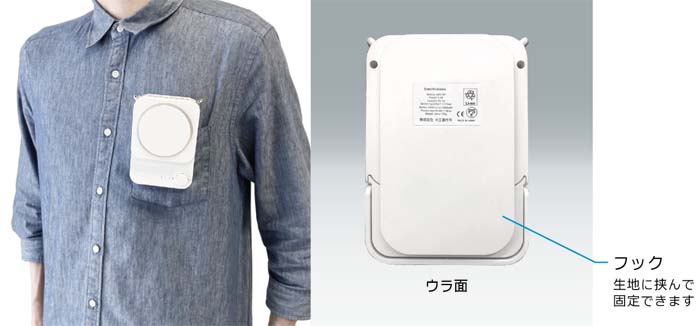 Product Specifications
Battery: Built-in Li-ion 2000mAh
Power: 3.3W
Charging time: about 3.5 hours
Air volume: XNUMX levels switch "weak/medium/strong"
Driving time: "Weak" about 9 hours "Medium" about 4 hours "Strong" about XNUMX hours
Standard: RoHS CE PSE (battery) * 
Accessories: USB cable for charging, neck strap
      Includes instruction manual (Japanese / English)
*Part supplement
・You can submit a copy of PSE certificate and electrical equipment import business notification form.
・In accordance with the Law for Promotion of Effective Utilization of Resources, the recycling mark for lithium-ion batteries is displayed on products and packages.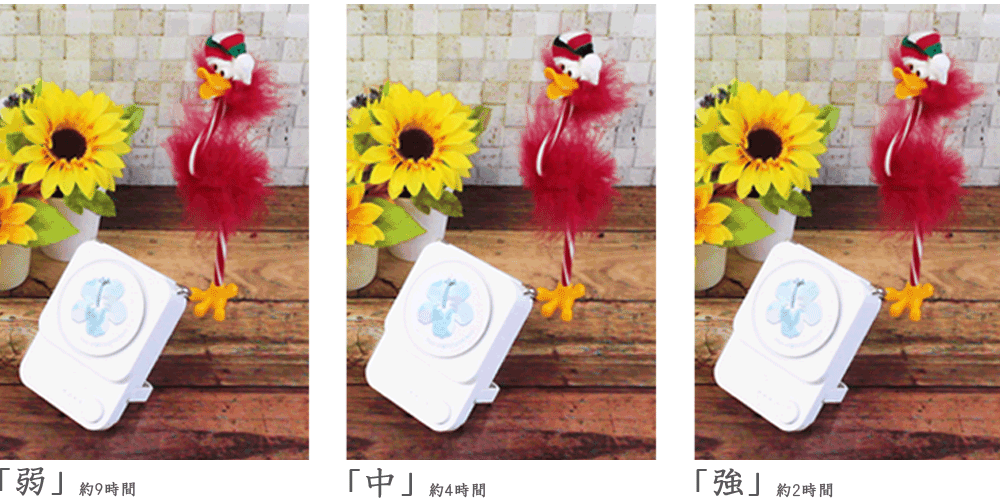 You can switch the air volume in 3 stages and use it for up to 9 hours continuously!

Caution) What to do if you give a shock such as dropping the product
If you drop the product on a hard floor or drop it from a position higher than your waist, etc.
If the product is subject to strong impact, discontinue use.
There are no accident cases with this product, but according to media and reports, the battery of the rechargeable electric fan
A rupture accident has been reported, and the cause has been alerted as a strong impact such as a fall.
Example of finished product
When you want to put a name or make an original design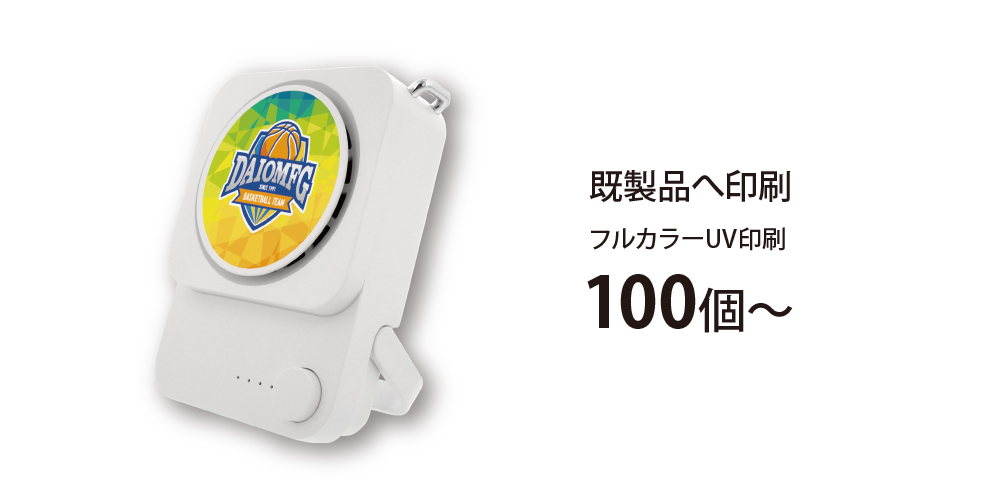 Put your name on a ready-made product

Minimum lot: 100 pieces ~
Reference delivery time: 10 days for sample, 20 days for mass production

パ ッ ケ ー ジ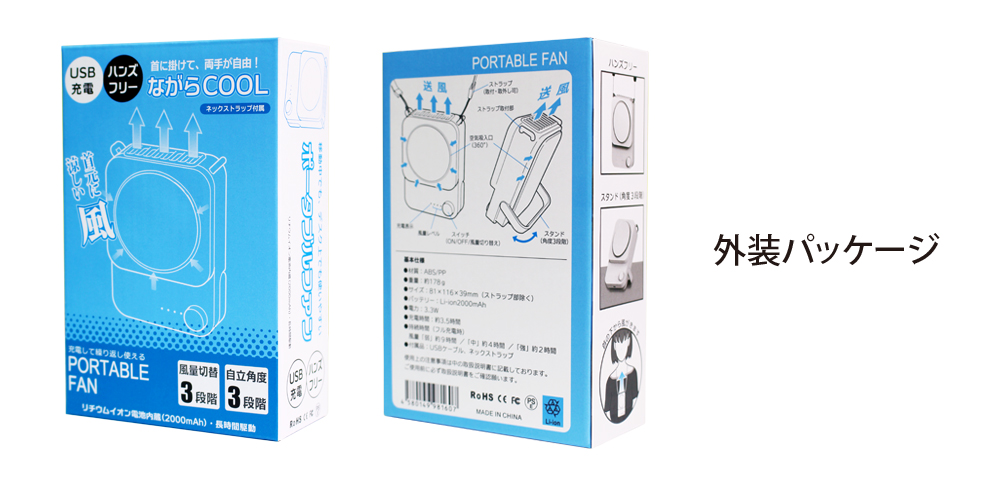 Exterior package size W90xH140xD45mm


Print range/template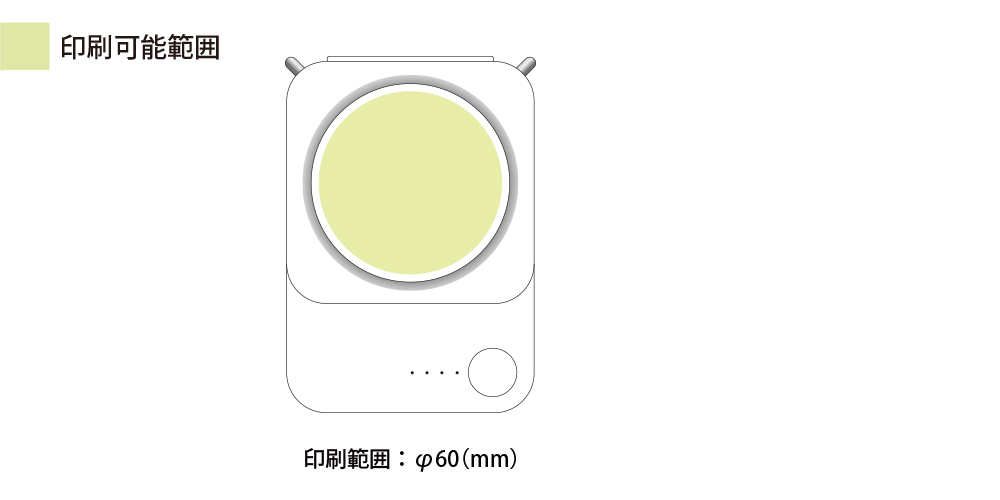 ↓ Please download the template from here.

Works
Introducing the company that made this product!
Original with the store name
"Portable fan"