HOME
>
Products/Services
>
Original goods production
>
Product list
> Rewarm Cairo (Recycle Cairo)
Original goods production
*Reproduction of images is prohibited
Catalog No.: 5911
Rewarm warmer (recycle warmer)
A nice promotional item to get in the cold season!
-A practical and useful item for a novelty for briefings during cold weather!
・For gifts and event prizes! It's fun to look at
・Reusable and ecology & economy (rewarm type)
・Interesting as a teaching material for children's science!


An ecology and economy rewarm warmer that can be used over and over again.
The principle is that the chemical reaction of the inner solution is used, and the feature is that it instantly warms up when the switch is pressed.
Also, since the chemical reaction of this content liquid does not reach a high temperature, there is no risk of burns or fire due to overheating.
(The peak temperature of the rewarm warmer is about 50℃) *1

Since the content liquid is an aqueous sodium acetate solution that is also used in food additives, it is safe even if it breaks and the liquid leaks. *2
(Sodium acetate is a food additive often used as a shelf life improver)

The liquid will solidify after use, but when reused, it must be boiled in boiling water to return to a liquid (about 3 to 5 minutes).

*1 Be careful of low temperature burns.
*2 Not recommended as a drink.
* 3 The online shop sells solid colors from one piece.
* 4 Impurities such as precipitates and turbidity may be contained in the liquid, but it does not affect the use because it is a lump of sodium acetate and food coloring.


Eco Cairo Hokkairo Winter Autumn
Product code
5911
body size
Round type: φ10 cm
Material
Cover: PVC
Content liquid: Aqueous sodium acetate solution
Button: Stainless steel
Body color
Clear/pink/red/yellow/green/blue
Insert name
Possible (1-color printing)
More
Peak temperature: Approx. 50℃ Insulation retention: Approx. 40 minutes
77
How to use/reuse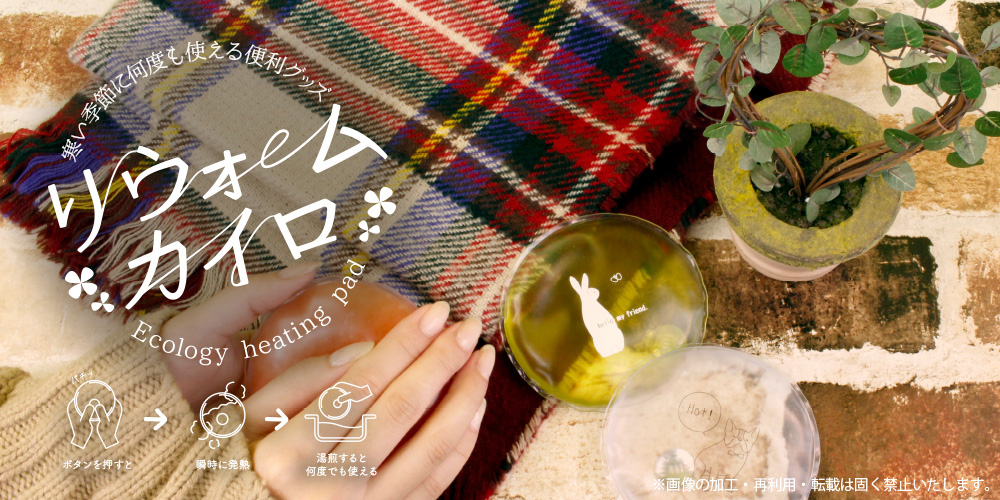 [How to use]
① Lightly press and bend the metal button in the body warmer until you hear a click.

② The liquid inside will crystallize white and generate heat. (Up to about 50℃)
 It keeps a moderate warmth while the heat gradually decreases and lasts for about 40 minutes.
 (Slightly different depending on usage conditions such as outside temperature)

* If the fever does not occur once, push the button toward the edge and bend it again.
 After the fever starts, loosen it lightly or wrap it in a cloth to keep it warm for a long time.

[Reuse method]
Soak in boiling water and boil until no white crystals are visible (about 5 minutes).
When it has completely returned to liquid, cool it with running water, etc. If you cool it, you can use it again.


Explanation corner of mysterious principle
[Principle of warming]
  The principle of heat generation in Cairo is "Heat of solidificationIt is due to a phenomenon called "."
  When the liquid in Cairo becomes solid, it emits heat, which means that the liquid has more energy.
  This is because it dissipates extra energy during the phase transition to a low energy state solid.

[Fever method]
  To heat the rewarm body warmer, push and bend the metal button inside.This will cause the liquid inside
 It stimulates (sodium acetate aqueous solution) and crystallization begins.
  This crystallization generates the above "heat of solidification".
 (It does not have to be metal if it can be given a similar stimulus)

  [Slowly expanding solidification]
  A phenomenon in which a liquid substance becomes more and more solid.This is when there is a piece of core solid
  It is a phenomenon that it is derived from the surrounding liquid and becomes a solid. Called "crystallization", molecular composition
  This is a phenomenon in which columns are aligned one after another.

[Sodium acetate aqueous solution]
  Sodium acetate is a salt made from acetic acid and sodium.Preservatives such as pickles as food additives
  It is also used instead.
  The sodium acetate aqueous solution used in Rewarm Cairo is a solution of sodium acetate in purified water.
  It is used for rewarm body warmers because it is extremely stable even in the supercooled state *.
 *Supercooling:
  Supercooling means that even if the liquid is cooled past the freezing point (= transition point), it does not solidify and remains in the liquid state.
  Phenomenon to do.If it is water, it means that it does not freeze even below zero degrees Celsius.In the first-class phase transition
  This is a metastable state.
  When some kind of stimulus (vibration, etc.) is applied to supercooled water, it crystallizes rapidly (inoculation freeze).
  If it's in a bottle, just hit it and it will freeze, and if you try to transfer it to another container, it won't be poured.
  As it freezes, columnar ice may form.

When you want to put your name on it, or make your own design with colors and shapes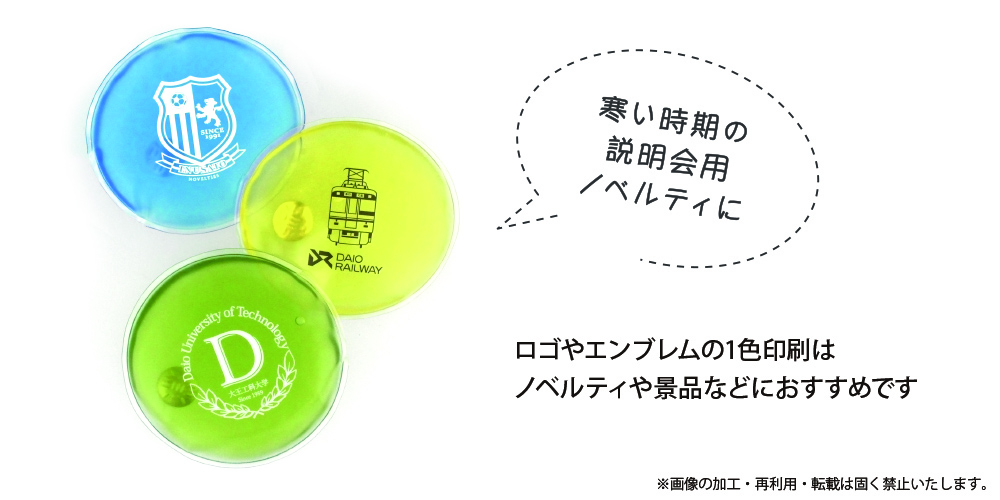 Put your name on the ready-made product (round φ10 cm)*1 color printing
Minimum lot: 100 pieces ~
Reference delivery time: Sample 2 weeks Mass production about 20 days


Original color and shape
Minimum lot: 1000 pieces ~
Reference delivery time: Sample 2 weeks Mass production 3 months


↓ Please download the template from here

パ ッ ケ ー ジ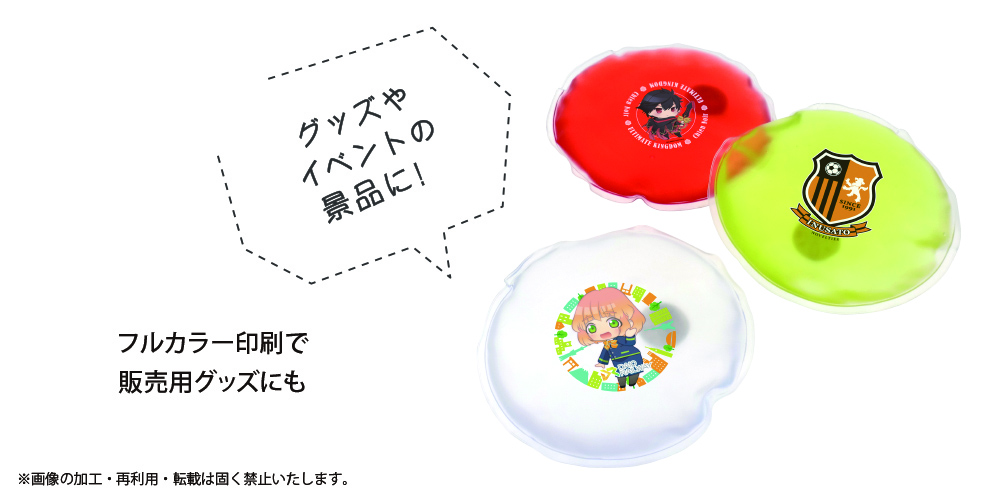 Usually the package is a white box (with description).
Custom mounts and clear packages are also available.
(Package size: W100 x H100 x D20 mm)
You can watch a video of crystallization.