HOME
>
Works
> Example: Our project
Example: Our project
"One Week Friends." Cleaner cloth strap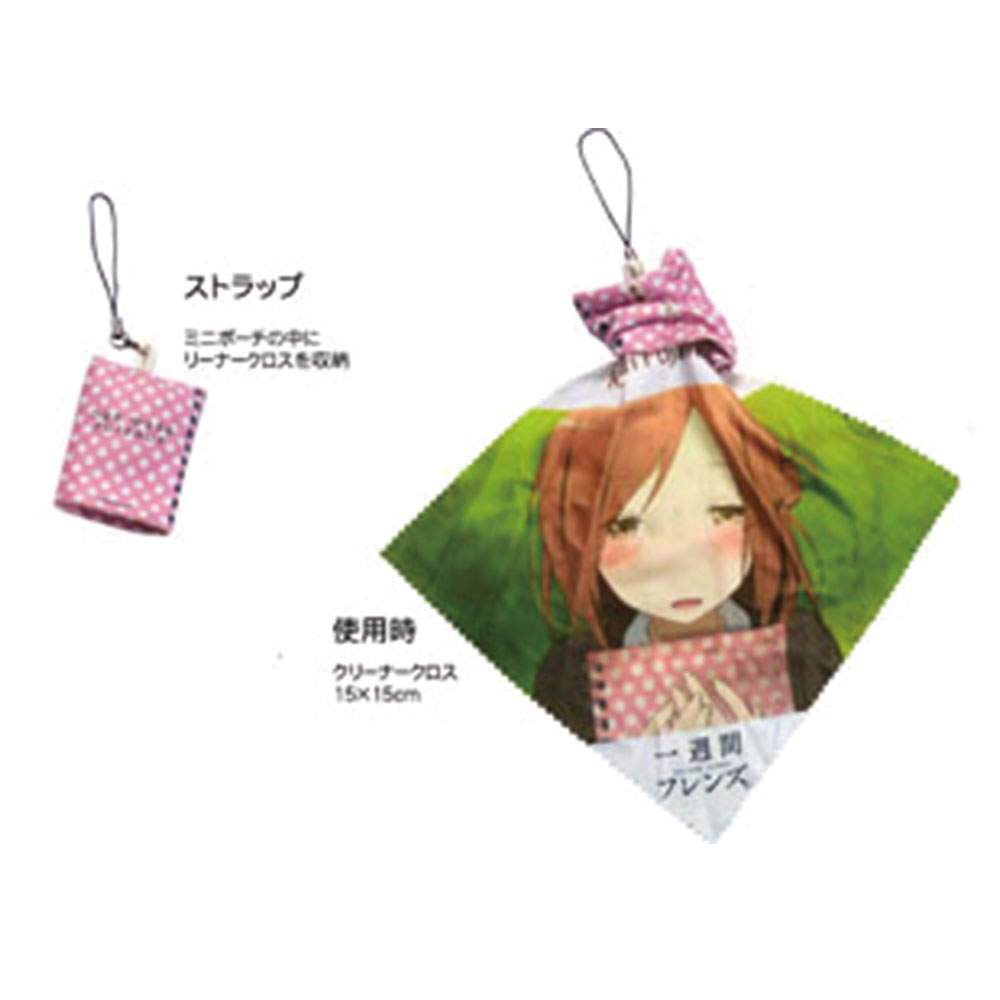 Craft and range

Cleaner cloth strap
Planning/Production

Processing method

Sublimation transfer printing and sewing processing

Purpose of use/application

Anime products

Delivery date

45 days

Minimum lot

1,000~
Introduction of product planning
For copyrighted character goods such as anime and games, we have commercialized them for us as the second version following "NARUTO".
We have been manufacturing character goods for many years, but until now we had only OEM support, so we did not have any copyrighted character products planned by our company.With the market bustling with various character goods these days, we wanted to send out products from our company as well, and in 2012, as the first licensed character product, the earphone jack accessory of the popular manga "NARUTO" published in Weekly Shonen Jump. Commercialized.This "One Week Friends." Is the second work.

From this content "One Week Friends.", we commercialized two items, a can badge and a cleaner strap.
The cleaner strap is a product that wipes off stains on smartphones whose screens are becoming larger and the lenses of glasses, but you can carry the 15 cm size cloth that is the same as normal glasses wipes in a mini pouch of about XNUMX cm and carry it as an accessory strap cutely. ..
With conventional strap type cleaners, the area of ​​the cleaner is small, so it is difficult to perform the wiping work, and the oil content that has been wiped off quickly reaches the entire surface, and the ability to remove dirt tends to decline early.
The cleaner this time is the same size as the glasses wiper, which makes it much easier to wipe than conventional straps.
In addition, the material of the cleaner cloth is microfiber cloth, which demonstrates its outstanding cleaning ability.

The key point of the design is that the original motif and world view are used as goods.
The scenes and lines that were actually used in the original and animation were adopted in the design of the goods instead of the pictures drawn for PR events and goods. The target is aimed at fans from the original content of this content, and fans who love the gentle worldview created by carefully depicting the original motif even in the case of animation.
We thought that it would be better to deliver the atmosphere of the work as it is, rather than adding extra decoration by the manufacturer.