HOME
>
Features
> Prototype sample
Prototype sample
We would like to introduce our 3D-CAD and XNUMXD-CG work environments, which are indispensable for making prototype samples.
By utilizing 3D-compatible software and hardware, we are working not only to improve the efficiency of in-house design and development, but also to improve service to our customers.
Benefits to customers
(XNUMX) With XNUMXD data, you can check a realistic design image before trial production or before ordering a mold.
 ➡ You can check the goods by CG from all directions 360 °.In addition, since this CG image can be used for customer's product planning documents and advertising materials, realistic promotion is possible even at the planning and development stage without the actual product.
(XNUMX) With XNUMXD data, it is possible to print from one piece using a XNUMXD printer.
 ➡ It is possible to evaluate not only the appearance of the design but also the physical evaluation before making the mold. (Production with a XNUMXD printer will be arranged by the customer)
③ If the customer prepares XNUMXD data, we will check the design before arranging molds and prototypes.
 (We will confirm that the design has no problem in actual manufacturing, and if necessary, we will propose a modification of the design.)
④ By the above, it will streamline the process up to design decision and will help to reduce delivery times and costs.
Handling data
・Receivable data: STL data
Input: XNUMXD scanner
What is a XNUMXD scanner?
This is a device for scanning the external shape of an article and importing it as three-dimensional data.
By using a 3D scanner, you can streamline XNUMXD modeling and expand the range of expression.
Artec 3D Scanner Spider Model Specifications
This model was developed to scan relatively small objects with high accuracy. Used for complex parts, figures, toys RP, etc.
| | |
| --- | --- |
| Spec. | Numerical value |
| 3D resolution (maximum) | 0.1 mm |
| Accuracy of 3D point data (maximum) | 0.03 mm |
| 3D distance accuracy (maximum) | 0.03% (100 cm or more) |
| Acquisition of color information | Possible |
| Field of view (shortest) | 90mm × 70mm |
| Field of view (longest) | 180mm × 140mm |
| Field of view (angle) | 30×21 degrees |
| Measured distance | 0.17-0.35m |
| Size | 190 130 × × 140mm |
| mass | 0.85kg |
| 电源 | 12V 24W |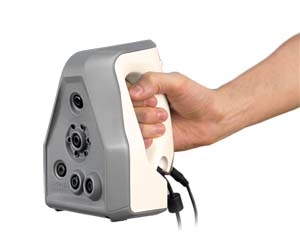 Edit: XNUMXD CAD
SolidWorks
Ease of use of 3D design in the actual work, full-scale modeling functions, and abundant interfaces make the development process more efficient. It is the most general-purpose 200D design software with a proven track record of 14 million licenses worldwide and XNUMX licenses in Japan.
It is used for design development to define the product accurately in terms of dimensions, rather than the sensual shaping of characters and mascots. You can also check the strength based on the material, and check the fitting/interference/moving range video of products made up of multiple parts.
free form
GeomagicR FreeformR is a 3D modeler that uses designers' representation technology using particles (voxels) instead of surfaces or solids, allowing designers to respond to the shapes that they want to express intuitively and the sophisticated expression requirements in detail. It has been introduced into fields such as jewelry and toys, pottery, amusement, and characters with high designability, as well as design departments of automobile and home appliance manufacturers, and medical fields.
Output: XNUMXD printer
Projet 4500
The ProJetR4500 prints smooth surface quality and full-color colored, flexible and strong parts.An office-friendly 3D printer with fast printing, efficient and intuitive operation to maximize productivity and minimize operating costs.The appearance is beautiful, the contents are tough, and the color plastic model taken from the ProJet 4500 3D printer can be used as is.Color jet printing technology (CJP) and VisiJet RC4 Spectrum? Plastic materials allow you to quickly create vibrant prototypes that are close to the final product.The modeled parts accurately represent the characteristic parts and can be used as high-resolution custom specifications.