HOME
>
Sustainability
> Initiatives for SDGs
Initiatives for SDGs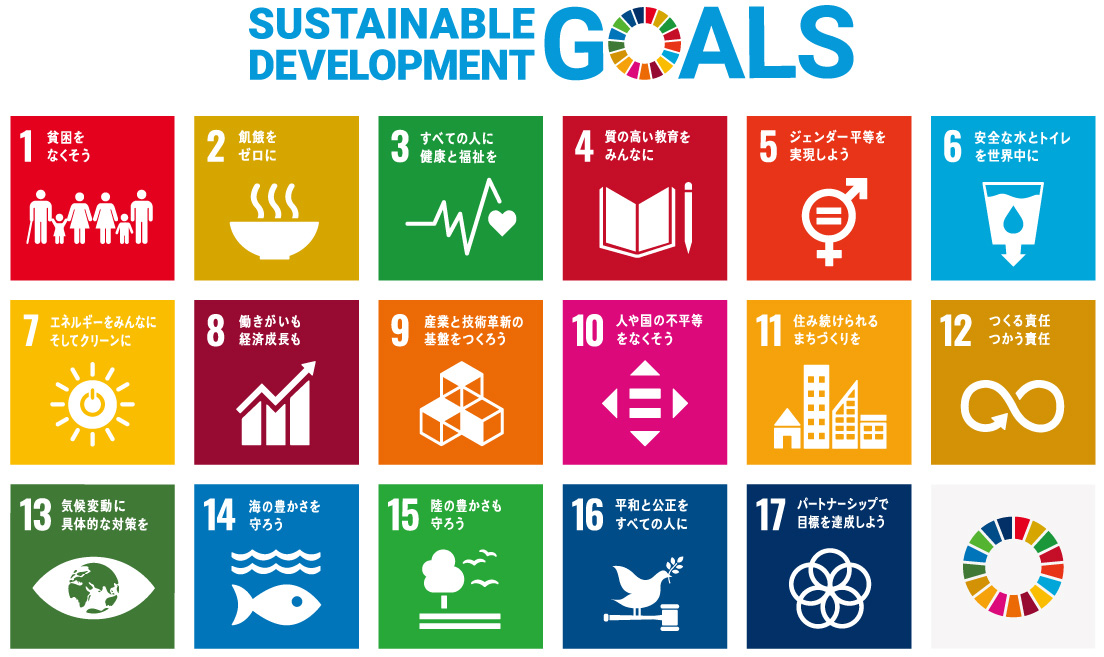 What are Sustainable Development Goals (SDGs)?

As a successor to the Millennium Development Goals (MDGs) established in 2001,
It is an international goal aiming for a sustainable and better world by 2015, which is stated in the "9 Agenda for Sustainable Development" adopted by the United Nations Summit in September 2030.
Composed of 17 goals and 169 targets, we vow to "leave no one behind" on the planet.
A blueprint for a better and more sustainable future for all.
We aim to solve global issues we face, such as poverty and inequality, climate change, environmental degradation, prosperity, peace and justice.
The goals of the SDGs are interrelated. It is important to achieve each goal and target by 2030 so that no one is left behind.
Daio Seisakusho's efforts to contribute to SDGs through business
Environment
Working on ISO14001
As a matter of course, 3R ((1) Reduce (2) Reuse (3) Recycle) activities based on the Basic Law for the Promotion of a Recycling-Oriented Society should be promoted by the active introduction of environmentally friendly materials and the creation of a mechanism that does not cause defective products. We aim to provide "gentle" products that are conscious of the global environment, such as avoiding wasting resources.
Daio Seisakusho's Environmental Management System (Thinking about the environment is about quality) Thinking about the environment is generally a familiar place to reduce resources (copy paper, etc.) and save energy, but Daio Works puts the most effort into it. No is a mechanism to prevent defective products.
Disposing of defective products wastes the resources of the defective products themselves, and doubles the environmental burden of recreating them.
In other words, environmentally conscious activities also lead to quality. We want to reduce the environmental impact by improving quality.
what we can do
If you always feel like it is a waste, you should be able to carry out activities that lead to environmental conservation.
After all, people. The feeling of "mottainai" leads to cost reduction and can be returned to customers in the end.
At Daio Seisakusho Co., Ltd., we pay close attention to everyday awareness, and every day a team of employees cleans up and discovers a small "mottainai", gathers together to take in-house lectures, discuss and discuss bright and fun environmental issues. I'm out.
Aiming to be an eco-style company
Familiar activity "recycling" that everyone is doing. However, I think that there are things we can do closer to when we consider the energy that goes into "recycling." That is to continue to use it for a long time.
At Daio Seisakusho, we are paying attention to one of our main products, as well as eco-design development aimed at extending life.
In addition to the conventional 3R, "I can still use it"-I would like to introduce and promote the Repair method and support users who practice eco-style.
Environmental safety
Our approach to harmful substances
Friendly to people and people-Lead-free/CPSC/EN71 compliant/RoHS MSDS (Chemical Safety Data Sheet) related to products handled by our company and inspection results of hazardous substances that comply with regulations such as RoHS, CPSC, EN71, etc. Information is released at any time.
At Daio Seisakusho, we are actively promoting the use of lead-free products, but the problem of lead being mixed into parts imported as lead-free products from our China factory in 2006 (it passed as lead-free in the preliminary inspection at the start of import). ), and in order to strengthen the acceptance inspection and pre-shipment inspection at every import and receipt, purchase and install the fluorescent X-ray analyzer in-house and perform sampling inspection to ensure quality assurance as needed. I am.
In addition, we have a system in place to report the content inspection results using an X-ray fluorescence analyzer for the six RoHS regulated substances including lead on the same day in response to customer requests.
Regarding the problem of lead contained in our metal accessories
In a series of reports on "the problem of high concentrations of lead contained in metal accessories", there is an impression that imported products such as those made in China and inexpensive products for children contain a large amount of lead. I will give it, but it depends on the manufacturing method actually used.
However, regarding the products manufactured or imported after October 20, 10 due to the revision of the Food Sanitation Law, there is a risk that infants may come into contact with them and their health may be impaired. However, unfortunately all manufacturers, sellers, and consumers are not aware of lead, and even in Japan, materials that contain a lot of lead and metal products using the manufacturing method are suitable for children. Currently, not only metal accessories but also widely manufactured and distributed.
We will take this opportunity to revise our awareness of lead, work to understand the lead content in our products, call out the lead content status and handling precautions for the product, and at the same time check if there is any regulation. Regardless of lead-free, we will continue to develop manufacturing methods and products.
Use of biomass (plant-derived) plastic
We would like to actively switch from conventional petroleum-derived plastic products to plant-derived plastics made from natural materials such as corn.
Compared to general plastics, it consumes less energy during incineration and can reduce CO2 emissions during manufacturing by about 30-40%. In addition, plant-based plastics are environmentally friendly materials that are decomposed into water and CO2 by microorganisms in the soil and water.
However, compared to conventional products, the raw materials are more expensive, they cannot be easily molded by conventional manufacturing methods, and it is difficult to procure high-quality raw materials in China.
Currently, we have commercialized a zodiac mascot using PLA (polylactic acid), which is a biomass (plant-derived) plastic. We are also prototyping shoehorns, crime prevention whistles, business card cases, PET bottle openers, clips, etc.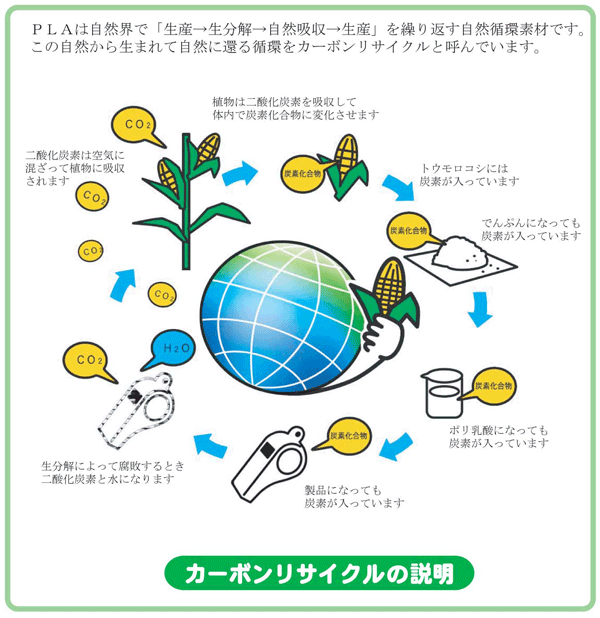 Animal protection/protection
The production of fur involves the sacrifice of animal life.
Fur products are produced not by cutting only the hair like wool, but by peeling. These animals are sourced by capture and rearing, but by any means their cruelty has led to widespread movement against fur in the world.
However, recently, the epidemics of genuine animal fur have been expanding once again due to improvements in some breeding conditions.
Although we are not a company that strictly advocates for animal welfare and protection, we believe that it should not be an excessive supply in terms of the value of life and protection of the natural environment.
For example, we will cooperate by providing alternative products so that you can choose fake fur "= fake fur (eco-fur)" instead of genuine one for fashion accessories only for one season or small accessories such as bonbons.