HOME
>
About quality
> Clean room
Clean room
Clean rooms are commonly used in industries such as semiconductors, pharmaceuticals and food.Our clean rooms are operated with a cleaning degree of 1 to 10 in class.We mainly handle the processing and inspection of miscellaneous goods such as accessories and novelties in a clean environment that is close to the working environment of food and precision products.This prevents small dust, hair, and foreign matter from getting into the product.
Overview of clean room
Our clean room is located on the premises of the Misato Factory in Saitama Prefecture.
It is less than 3 minutes by car from Tokyo, about 30 minutes from the Misato exit of the Shuto Expressway.
The Misato Factory is always open for factory tours, so please feel free to contact us.
Air shower
The entrance is equipped with an air shower to reduce dust in the air inside the work room.
Air conditioning uses a special filter to send clean air into the room.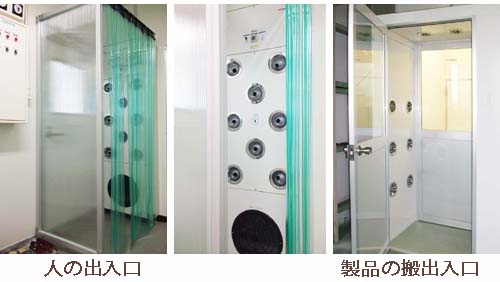 Clean wear
Indoors, we wear clean wear and caps to reduce dust from workers.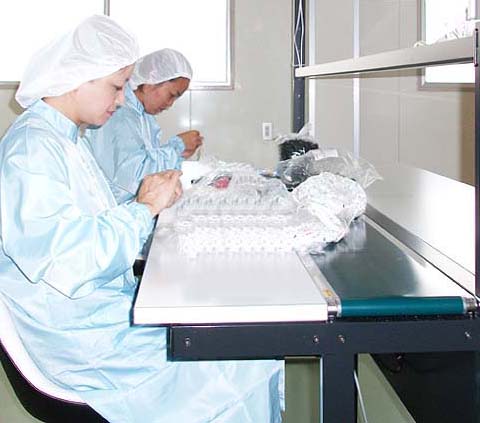 Clean room cleanliness
The cleanliness of our clean room ranges from 10,000 to 100,000.
If you compare the natural environment to a class,
Clean order
● Above the clouds: Class XNUMX
● On the sea: Class XNUMX
● Operating room: Class about XNUMX
● Countryside: Class XNUMX
● Suburbs: Class about XNUMX
●Office: Class XNUMX
● Factory: Class about XNUMX
●In the city: Class XNUMX
It is said that.
Substitute for inspection work
For many years, there has been a need for final inspection by a third party in Japan, mainly for products manufactured overseas, products arranged through new vendors, and new products.
Our company has started a new inspection agency business by utilizing the experience and knowledge cultivated as a manufacturer and the quality control system established by the acquisition of ISO14001 certification.

We also accept simple assembly processing and packaging work, so we can streamline the series of processes from processing to inspection.


Use a simple clean room
The work environment is a simple clean room (class 1 to 10) newly installed so that even customers who place importance on quality can leave it to them with confidence.
Under a hygienic environment in which dust in the indoor air is limited, we will handle your important products cleanly.
[Recommended for such customers]
・Many products that are produced overseas
・Many large customers
・We want to minimize the adhesion of dust and dust to the product and the mixture in the package.
・We will bring customers, so we would like to show you a solid work environment.
・It was inconvenient because we asked different companies to assemble, inspect, and package
Target agency business scope
For processing, the process at the internal work level, which is generally called, is the target. We do not support work that requires specialized technology or knowledge, or precision processing.
Examples of products that can be processed> Cellular straps, accessories such as assembly and packaging, inspection work, etc.