HOME
>
About quality
> Commitment to quality
Commitment to quality
On this page, we introduce the points we focus on for the quality of our products (original parts for handmade such as key chains, mobile straps, accessories, etc.) that we work on a daily basis.
It may be a very trivial matter, but we are working to improve quality every day in accordance with Japanese quality standards, so that we do not lower quality standards because they are cheap imported parts.
Also, on a quantity basis, we lose to imports from overseas such as China, South Korea, and Vietnam, but on a monetary basis, we also handle high-quality parts with short delivery times, with the current supply from cooperating manufacturers in Japan exceeding 50%. I am.
Commitment to mobile strap parts (Matsuba string)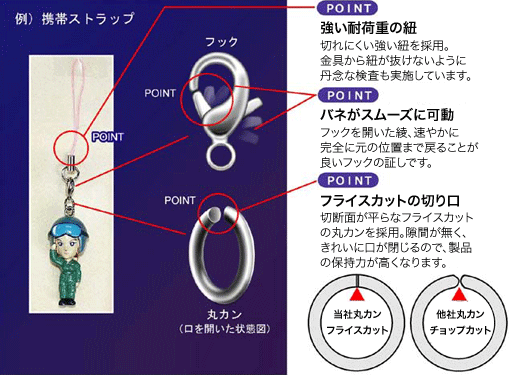 Commitment to Marukan
We handle round cans made of iron, brass, stainless steel, phosphor bronze, etc., but basically we adopt a milling cut with a flat cross section regardless of the material. Of course, round cans made in Japan as well as those made in China are milling cuts.
It should be noted that the chop cut not only has a dirty cross section, but also has the drawback that a gap easily forms when the round can is closed, making it easy for objects to come off.
At our company, the round can under the imported key chain adopts a milling cut, and the middle round can uses a part chop cut, but by compensating for the defects of the milling cut by increasing the wire diameter of the round can It has been commercialized.
Commitment to horseshoe-shaped key chains
We are also particular about horseshoe-shaped key chains.
For example, when opening and closing the horseshoe key chain, can it be opened and closed smoothly and there is no play?
If the caulking is too sweet, there will be significant backlash and instability. If the caulking is too strong, it will be too hard to open and close.
We caulk with moderate strength and control the quality so that customers can use it comfortably.
Commitment to one-touch key chains
We are also particular about one-touch type key chains.
The main molding parts of this product are all made of zinc die cast.
Since high temperature alloy is poured into the mold for mass production, many burrs remain immediately after molding.
Depending on how much you stick to this and polish it, the brightness of the surface and the beauty will differ.
We take time to carefully polish and control the quality so that our customers can think that it is beautiful.
Tensile strength inspection device
We have established our own quality standards for each product, such as mobile phone straps and hooks manufactured by our company, and carry out destructive inspection of tensile strength as appropriate.
It is also possible to provide individual inspection results upon customer request.
Example) A customer's mobile phone strap (pineapple string) is based on the standard of being able to hold for 5 seconds with a load of 10 kg.
Commitment to harmful substances (Sampling inspection is performed by X-ray fluorescence analyzer)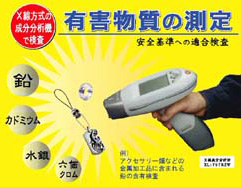 We are actively promoting lead-free, but there is a problem that lead is mixed into parts imported as lead-free products from our China factory in 2006 (it passed as lead-free in the preliminary inspection at the start of import). In order to strengthen the acceptance inspection and pre-shipment inspection at every import and receipt, we purchase and install the fluorescent X-ray analyzer in-house and perform sampling inspection to ensure quality assurance as needed. We are.
In addition, we have a system in place to report the content inspection results using an X-ray fluorescence analyzer for the six RoHS regulated substances including lead on the same day in response to customer requests.
If you have any questions about lead measures, please contact our sales staff.