HOME
>
Company Information
> About Daio
Company Information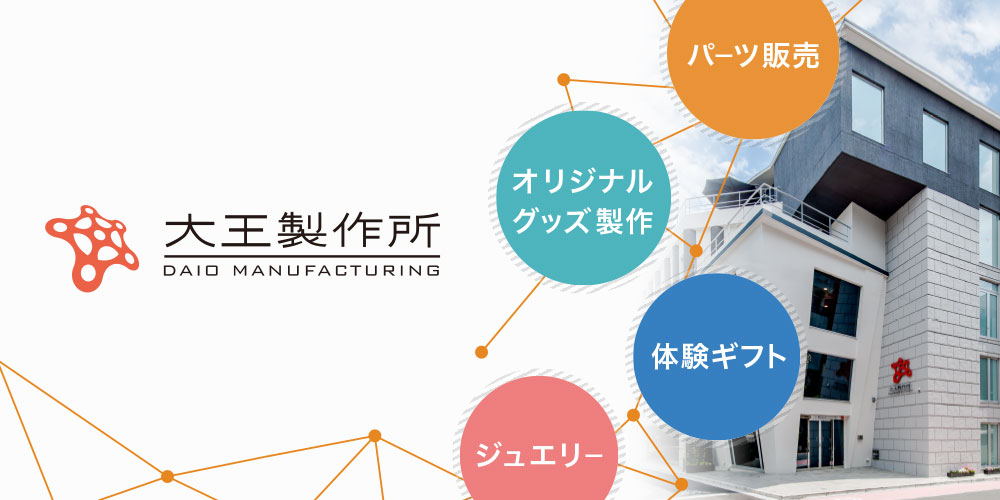 Profile
Company Name
Daio Manufacturing Co., Ltd.
DAIO MANUFACTURING CO., LTD.
The head office address
〒111-0021 2-11-6 Nihontsutsumi, Taito-ku, Tokyo, Japan
Main phone number: 03-3876-1341

Business outline
Key chains, accessory accessories including precious metals, novelties,
Development, manufacturing and sales of character goods, toys and parts
The main handling item
Chains, key chains, metal parts, accessories,
Cell phone straps, jewelry, precious metals, imported miscellaneous goods, custom-made items, etc.
Related parts above-Semi-finished products/finished products, promotional products/product miscellaneous goods, etc.
Made-to-order products, OEM products, in-house planned products
Founding
December, 1959 (Showa 34)
Establishment
March 1961, 36 (Showa 3)
Capital
100 1 million yen (XNUMX million yen)
Total assets
1,725 1,277 million yen (net assets: 74.1 2019 million yen capital-asset ratios: 2%) fiscal year ended in February, XNUMX
Accounting period
February (once a year)
CEO
Representative Director Hajime Tashiro
Official

Director Tomio Hosoya (Sales representative)
Director Takeshi Nishino (Manufacturing)
Director Yuzuru (In charge of general affairs, President of Dairo Trading Co., Ltd.)

Executive Officer Masaharu Suzuki (Development Officer)

Employee
About 36 people
Alma mater

Keio University, Rikkyo University, Hosei University, Toyo University, Nihon University, Tama Art University
Musashino Art University, Joban University, Ryutsu Keizai University, Tokyo Polytechnic University, Rissho University, Edogawa University
Kwansei Gakuin University, Kyoto Sangyo University, Bukkyo University, Otemon Gakuin University, Osaka Aoyama Junior College
Dalian University (Liaoning), Mudanjiang University (Heilongjiang), Heilongjiang Engineering Institute (Heilongjiang)
Tohoku Institute of Technology, Nippon Design College, Kansai Design Art College
Japan School of Business, Umeda Business College, Tokyo Electronics College

Bank

Mizuho Bank (Oku Branch) account 0102413

Mitsubishi UFJ Bank (Ueno Branch) account 0341648
Resona Bank (Asakusa Branch) account 0117367

Sumitomo Mitsui Banking (Asakusa Branch) account 0230407
Japan net bank (the head office sales department) normal 2088906

Rakuten Bank (the salsa branch) normal 7029101
House sincerity SBI net bank (the best branch in corporation) normal 1114413

Japan Post Bank (1405771 XNUMX branch) normal XNUMX
Certification/Registration
Offices
Tokyo Head Office
〒111-0021, Daio Building Tokyo, 2-11-6 Nihontsutsumi, Taito-ku, Tokyo, Japan
Phone: 0956-56-2311
FAX: 03-3876-1349
Private parking available (6 indoor mechanical)
Tokyo Office
〒111-0021, Daio Building Tokyo, 2-10-9 Nihontsutsumi, Taito-ku, Tokyo, Japan
Phone: 0956-56-2311
FAX: 03-3876-1349
Private parking available (10 outdoors, 3 indoors, shared with head office/office)
Osaka Sales Office
〒556-0003, Daio Building Osaka, 2-8-9 Ebisunishi, Naniwa-ku, Osaka, Japan
Phone: 0956-56-2311 
FAX: 06-6643-7805
Private parking available (2 indoors)
Nagoya Sales Office
〒460-0026, Daio Building Nagoya, 1-1-4, Iseyama, Naka-ku, Nagoya, Japan
Phone: 0956-56-2311 
FAX: 06-6643-7805
Private parking available (6 indoor mechanical)
Misato Factory
〒341-0042, 550 Yaguchi, Misato-shi, Saitama
Phone: 0956-56-2311
FAX: 048-953-5005
Private parking available (outdoor)
Chinese local corporation
Yiwu City Seagull Trading Co., Ltd.(showroom)
It is 320-322 *koshogikarasushijoseigaidosei*daidosei

Affiliate
kyokishojikabushikikaisha
Corporate number:5010501003710

Business hours
Weekday
From Monday to Friday: From 9:30 a.m. to 5:5 p.m. (after XNUMX:XNUMX p.m. becomes answering machine)
Lunch break: We are doing one hour between each employee 11:30-13:30 with lunch break
A no overtime work day: Friday becomes leaving the office (we turn off the light in all facilities at 18:30) by all employee 18:30 every Wednesday
Regular holidays
Saturday, Sunday and holidays
| | |
| --- | --- |
| Summer vacation | From Saturday, August 2019, 8 to Sunday, August 10, 2018: Every year consecutive 08-18 days |
| Winter vacation | From Saturday, August 2019, 12 to Sunday, August 28, 2019: Every year consecutive 01-05 days |
| Company trip | We plan September, 2019 or October (in 9 to Taiwan) |
Business development
Parts business
Various parts such as key chains, mobile straps, smartphone accessories
OEM business
Utilizing customer characters and designs in small to large lots
It is possible to make original products. In addition, design suggestions are also possible.
Sales promotion business
Proposal of product planning according to budget is possible
Business
Providing experience value from product (thing) proposal
Proper business
Daio Seisakusho original products
Internet business
Own online shop, amazon, yahoo

Jewelry business

Jewelry business
Machine chains, parts made of gold, platinum, silver
Development by industry
Tourist products
Key chains and mobile phone straps for tourist destinations nationwide
Shrines and Temples
Lucky items, netsuke strings, amulets, etc. sold at shrines and temples
Handicrafts and teaching materials
Hooks, mobile parts, fur bonbons, etc.
SP/OEM/sales promotion
Novelties, character goods, concert goods, etc.
Bags/bags
Bag fittings, handbag hangers, glove holders, etc.

Accessories

Misc & Amenities
Accessory parts, natural stone bracelets, necklaces, etc.
Pet related
Lost cards and aluminum capsules for ashes
Jewelry business
Machine chain, parts made of money, platinum, silver, etc.
ISO certification acquisition
Acquired ISO2001:12 certification on December 11, 9001
ISO2004: 12 version renewal examination passed on December 10, 9001
ISO2007: 12 version renewal examination passed on December 10, 9001
Passed ISO2010:11 and ISO05:9001 integrated examination on November 2008, 14001
Passed the integrated renewal examination of ISO2013:11/ISO05:9001 on November 2008, 14001
Acquired ISO2015:04 certification on December 02, 27001
Passed ISO2018:02, ISO22:9001, ISO2015:14001 integrated renewal examination on February 2015, 27001
ISO9001:2015
ISO14001:2015
JIS Q 27001: 2014 (ISO / IEC 27001: 2013)