HOME
>
Features
>
Production flow/processing method
> Surface finishing
Surface finishing
The appearance image of the molded product is adjusted and the performance according to the price is produced.
Plating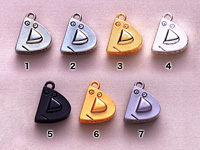 It plays a functional role such as anticorrosion and wear resistance, and establishes a design image.
(*The following are the main plating specifications, but we also accept other plating)
1. Nickel plating (NI)

Besides finish plating, it is also used as a base plating such as gold plating. Although it is a cheap and general plating, it may cause allergies, so some measures are required depending on the application.

2. Chrome plating (C)

It is a little bluish with beautiful plating with high gloss. It has high corrosion resistance, abrasion resistance, and heat resistance, and is also functionally superior.

3. Genuine gold plating (PG)

Plating that expresses a golden color using real gold. Since gold is a metal that is highly resistant to corrosion and oxidation, it is also characterized by its resistance to discoloration.

4. Silver plating (SV)

It is a plating that expresses the color tone of silver and is mainly used for decorative purposes.

5. Black nickel plating (BN)

A black finish plating with a generous tone. Mainly used for decoration because it is not durable.

6. Soft gold plating

You can express a calm golden color that suppresses specular reflectance and gloss.

7. Soft nickel plating

A calm silver color with reduced specular reflectance and gloss
Coloring and coloring processing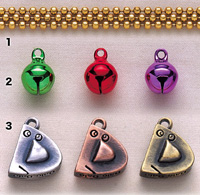 Introducing the main coloring and coloring processes other than plating. In the case of metal products, it is usually applied to plated products except for Kirin (Photo 1).
1. Giraffe

By chemically exfoliating the surface of brass products, a golden color tone (brass color) can be obtained.

2. Vacuum deposition

You can get a colorful mirror-like color.

3. Komi treatment

Gives a sense of material and era, such as bronze and antique. (Example) Gingko, Bronze, Brass Komi, etc.

4. Alumite processing

Aluminum metal such as aluminum card case and aluminum capsule can be dyed with vivid colors such as red and blue that cannot be expressed by plating by anodizing.

5. Clear painting

It is applied on the decorative plating to prevent discoloration. In addition, antibacterial paint may be used for antibacterial finish.

6. Other

There is coloring according to the object, such as painting resin products and chemical dyeing.
Potting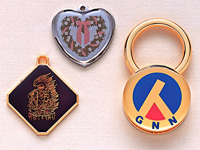 It is mainly used for improving aesthetics and protecting the printed surface.
A transparent resin (mainly epoxy resin) is coated on the surface of the pattern so that it is thick. Generally, it is called Epo processing.
Features

The gloss of the coated surface increases, making the underlying color look more vivid.
It protects the printed and colored surfaces of the base from scratches and outside air, and prevents discoloration and scratches.
It is also possible to add various colors to the pigment, including lame and dye.