HOME
>
Products/Services
>
Parts sales
>
Carabiner
> Die-cast carabiner with can
Parts sales
Product ID: 532
*Reproduction of images is prohibited
Catalog No.: 5611
Die-cast carabiner with can
It is a high-quality Nasukan with a polished finish.

Its high quality makes it suitable for leather products and expensive accessories.
| | |
| --- | --- |
| Product code | 5611 |
| body size | 31.5 x 43 x 5 (mm) |
| Material | Zinc alloy |
| Body color | Tin plating/Black nickel plating/Gold plating |
| Analytical test data | Yes |
| Quality standards | A-II |
【
Fake fast wrap

] Making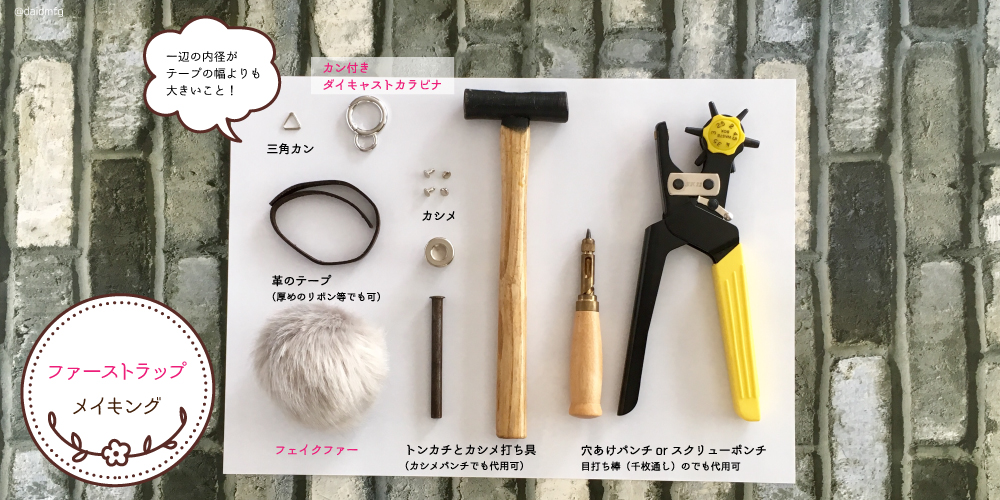 ・A punch punch or screw punch (a punching rod (awl) can be used instead)
・Tonkachi and caulking tool (caulking punch can be used instead)
・Leather tape (thick ribbon etc. are acceptable)
・Triangle can (
The inside diameter of one side is larger than the width of the tape
)
・Die-cast carabiner with can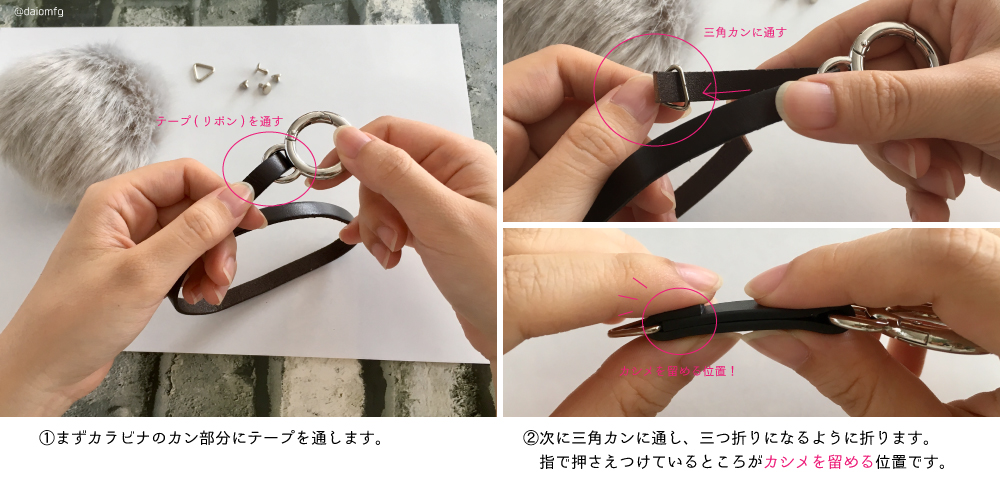 ① First, pass the tape through the can of the carabiner.
② Next, pass it through a triangle and fold it in three.
 The place where you press it with your finger is the position to fasten the caulking.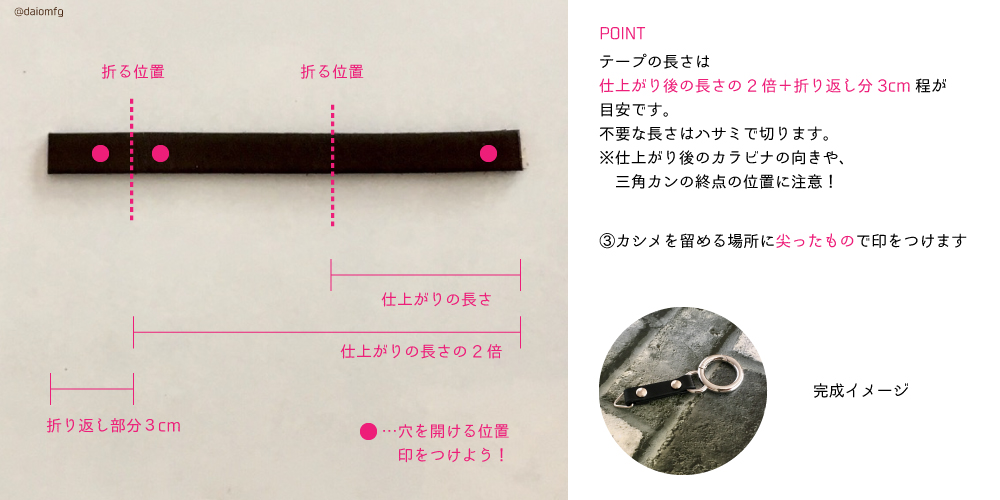 The length of the tape is "
A guideline is about twice the finished length + 2 cm of the folded portion.
Cut unnecessary length with scissors.
* Pay attention to the direction of the carabiner after finishing and the position of the end of the triangular can!
③ Make a mark with a sharp object at the place to fasten the crimp.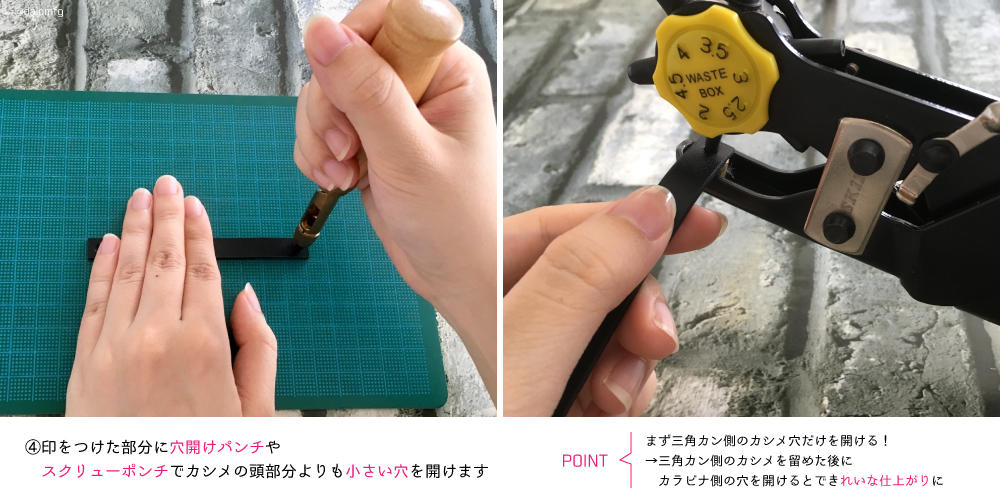 ④ Use a punch or a punch to punch the marked part.
 Make a hole smaller than the head of the caulking.
First, open only the caulking hole on the triangle side!
→ After fastening the caulking on the triangular can side, make a hole on the carabiner side.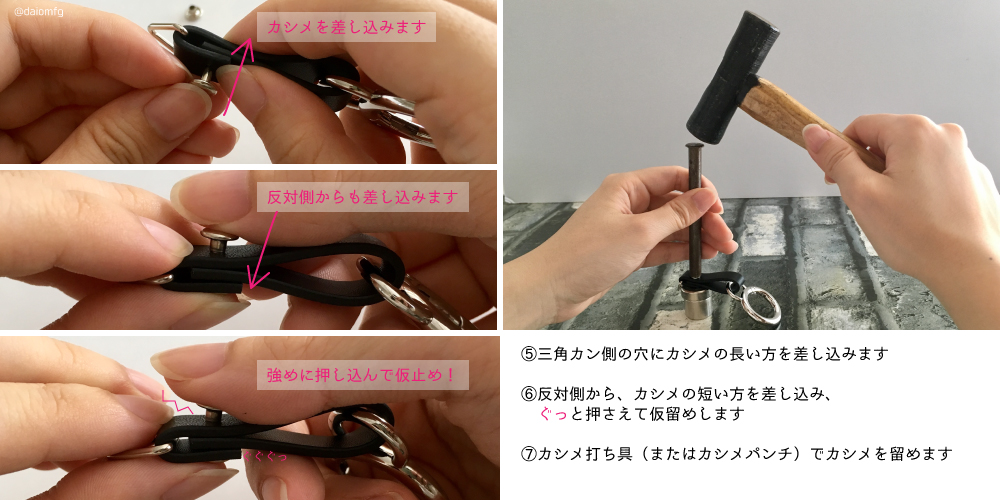 ⑤Insert the longer crimp into the hole on the triangular can side.
⑥ Insert the short side of the crimp from the other side, hold down firmly and temporarily fix.
⑦ Fasten the caulking with the caulking tool (or caulking punch).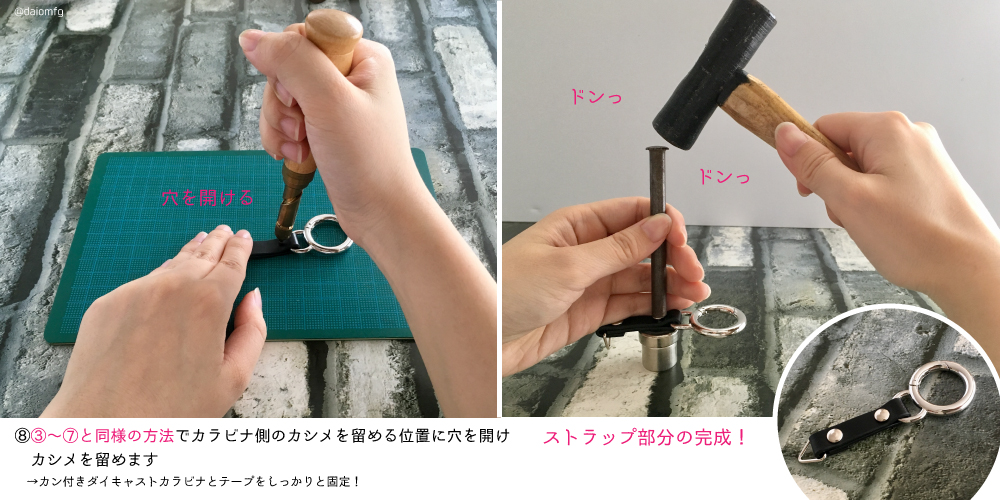 ②

Apply the resin solution to the edge of the plate with a toothpick and cover it with a glass dome.
* If the glass dome is covered with resin liquid,
 Be careful not to get the contents caught between the glass dome and the pen holder!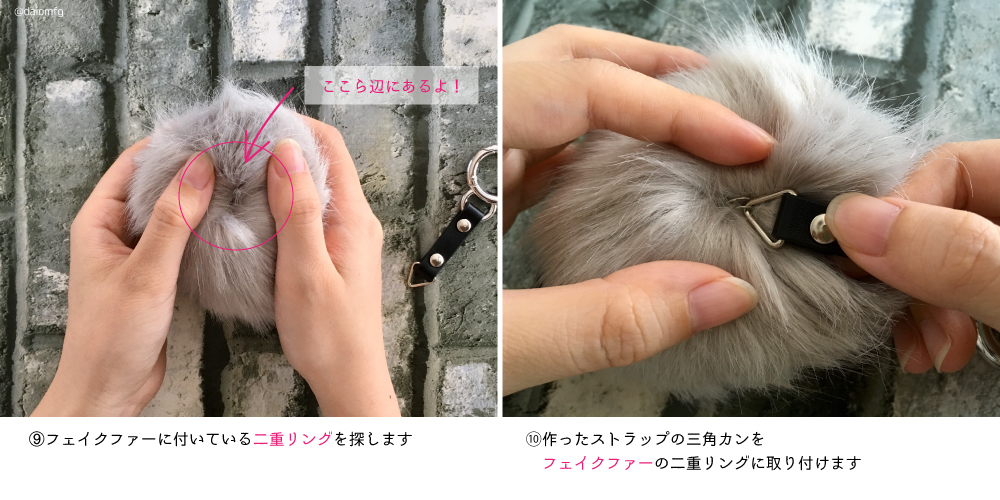 ⑨ Find the double ring on the faux fur!
⑩ Attach the triangular can of the strap you made to the double ring of fake fur.