HOME
>
Products/Services
>
Parts sales
>
Double ring
> Double ring flat push
1 Parts sale
*Reproduction of images is prohibited
Catalog No.: partscatalog_p13
Double ring flat push
A ring with double lines.It is also called double can or Nicole.
It is often used for key chains.
A standard part that is convenient for passing keys and connecting parts.
A double ring with a wire diameter of 4 mm and a high-class feel.
Since the surface is flat, it reflects light and shines brightly.
It is also recommended for parts of apparel supplies.
Product code
010405
body size
BR4 x 40: Wire diameter 4.0 x Inner diameter 32 (outer 40) mm (made-to-order)
BR3 x 30: Wire diameter 3.0 x Inner diameter 24 (outer 30) mm (made-to-order)
DR35-FF: Wire diameter 4.0 x inner diameter 27 (outer 35) mm
DR28-FF: Wire diameter 3.5 x inner diameter 21 (outer 28) mm
4NF: Wire diameter 3.0 x inner diameter 30 (outer 36) mm (made-to-order)
3NF: Wire diameter 2.0 x inner diameter 26 (outer 30) mm
1NF: Wire diameter 1.8 x inner diameter 20.5 (outer 25) mm
1NS-F: Wire diameter 1.6 x inner diameter 16 (outer 20) mm (made-to-order)
Material
BR4 × 40 (made-to-order) / BR3 × 30 (made-to-order): brass
DR35-FF / DR28-FF / 4NF (made-to-order) / 3NF / 1NF / 1NS-F (made-to-order): Iron
Body color
1NF / 3NF / DR28-FF / DR35-FF: Nickel / Genuine
1NS-F / 4NF / BR3 × 30 / BR4 × 40: Negotiable for build-to-order manufacturing
Insert name
Possible
Quality standards
B-2
782
Product list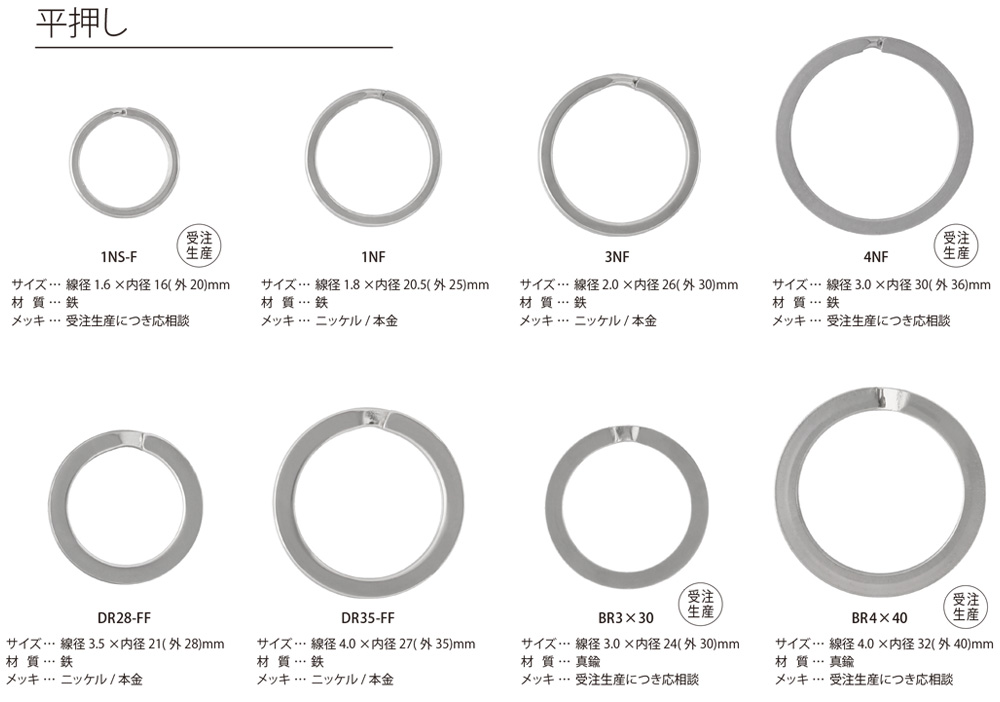 Flat-pressed ring with a flat cross section